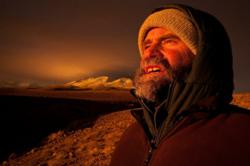 Ultimately, this work will engender a far deeper understanding of deserts than I have ever attempted in the past. I have written about the complexity and beauty of these landscapes, -- Chris Childs
(PRWEB) October 25, 2011
Craig Childs, a faculty member in Southern New Hampshire University's Low-Residency MFA program in fiction and nonfiction, was recently awarded the sixth annual Desert Writers Award. The award, established to honor the memory of Ellen Meloy, provides support to creative nonfiction writers "whose work reflects the spirit and passions for the desert embodied in Meloy's writing and her commitment to a deep map of place," according to the Ellen Meloy Fund.
Awards panel member Amy Irvine McHarg, who won the Meloy award in 2009, said of Childs' application, "While there were strong contenders for this year's award, the Craig Childs application shone far and above the rest, not only for its breathtaking scope and breadth but also in its ability to be nakedly, passionately, even defiantly intimate with the subject at hand – the desert.
"This application offered a fine example of what a good body of work must be in order to affect change in the world: daring and sacrificing in its love for place and people." Snow noted that Childs "is a broad and eclectic thinker, very much in the mode of Ellen Meloy. Like Meloy, Childs profoundly perceives the human reliance upon health ecosystems. Deserts, while beautiful and alluring, can also signal a planetary danger. This is the aspect of the desert that Childs is out to explore."
Childs had the privilege of knowing Meloy. "Ellen died not long after the two of us presented together, and we trekked some of the same dry, wild country, so it is no small honor for me to follow in both her literary and geographic footsteps," he said.
Childs has published more than a dozen critically acclaimed books. According to The New York Times, "Childs's feats of asceticism are nothing if not awe inspiring: he's a modern-day desert father." He has been called a born storyteller by the New York Sun, and the LA Times has said his writing is like "pure oxygen" and "stings like a slap in the face."
He has won several awards, including the 2008 Rowell Art of Adventure Award, the 2007 Sigurd Olson Nature Writing Award and the 2003 Spirit of the West Award for his body of work, an honor he shares with Wallace Stegner, Terry Tempest Williams and N. Scott Momaday.
Childs' considers his forthcoming book in progress his most ambitious book yet. As he shared with the Ellen Meloy Fund, "Ultimately, this work will engender a far deeper understanding of deserts than I have ever attempted in the past. I have written about the complexity and beauty of these landscapes. Now I want to take it a step farther and show how all of our lives are tied to arid lands, revealing how deserts work in a larger climatic picture, and the role they play in the evolution of an entire planet."
Childs is not just a naturalist and author; he is also an inspiring and revolutionary teacher. He joined SNHU's MFA faculty in 2010, bringing added distinction to the program. "In addition to offering a concentration in fiction and nonfiction, we also offer a concentration in environmental writing," said MFA Director Diane Les Becquets. "Craig has long been a favorite writer of mine. He is also an amazing faculty member. He brings a style of writing directly from the field, heightening students' senses and bringing a visceral quality to their writing. He emboldens them to take risks."
Craig said when teaching he is "extending beyond the frame of simply writing, and learning how to translate my own sometimes quixotic writing techniques into lessons students can apply to theory. I believe that writing goes beyond the story at hand, its purpose being to change something in the reader and something in the world."
Please contact MFA Director Diane Les Becquets at d.lesbecquets(at)snhu(dot)edu and 603.724.5784 for additional information. Also visit snhu.edu/mfa to learn more.
Office of Marketing and Communications
2500 North River Rd. | Manchester, NH 03106-1045 | 603.314.1461 | fax: 603.314.1484 | snhu.edu
###