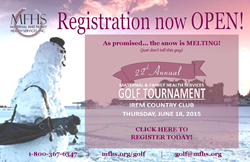 Wilkes-Barre, Pennsylvania (PRWEB) May 19, 2015
Maternal & Family Health Services' 22nd Annual Golf Tournament will be held on Thursday, June 18, 2015 at the Irem Country Club in Dallas. This annual golf tournament is an opportunity for golfers throughout Northeast Pennsylvania to enjoy a fun day while making a difference in the lives of women, children and families in Northeast Pennsylvania.
The MFHS golf tournament, open to all interested golfers, is a four person captain and crew format. The fee is $125 per person, $500 for a foursome, which includes the cart, green fees, box lunch, barbecue dinner and refreshments. The golf tournament will be held rain or shine, and both men and women are invited. The top male and female flight will each win one of the grand prizes. In addition, the tournament will also feature a silent auction and various raffles during the day.
Individual golfers and sponsors provide monies that help strengthen MFHS and its health and nutrition programs that have served thousands of individuals in Northeast Pennsylvania for more than 40 years. Maternal & Family Health Services focuses its efforts on improving the overall health and wellness of women, children and families in our communities.
To register or offer a sponsorship, visit the MFHS website MFHS.org. A variety of sponsorship opportunities are available for individuals and organizations who are interested in supporting MFHS in its mission. Registration deadline is June 10.
Maternal and Family Health Services is a non-profit health and social service agency celebrating over 40 years of service to Pennsylvania women, children and families. The agency oversees a network of health and nutrition centers in 16 Pennsylvania counties, serving over 110,000 people each year through the following programs: Women, Infants and Children (WIC) Nutrition Program; Family Planning Program; Healthy Beginnings Plus Prenatal Program; the Nurse-Family Partnership Program and the HealthyWoman Cancer Screening Program. For more information, visit http://www.mfhs.org, or call 1-800-367-6347.