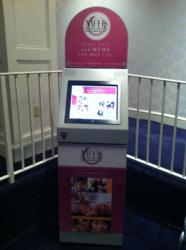 Wilkes-Barre, PA (PRWEB) September 27, 2012
Maternal and Family Health Services, Inc. (MFHS) recently presented a poster session about their health education and referral kiosk at the National Reproductive Health Conference in New Orleans from August 5-7th, 2012. The kiosk, developed by St. Andrews Development, Inc., is an innovative tool that provides health education for MFHS program participants and a referral system to help guide participants to other available services. These bilingual self-service touch-screen kiosks feature easy to understand information, interactive quizzes, surveys and videos, creating a new way to reach health consumers with critical information.
The National Reproductive Health Conference is a new conference that combines the Title X National Clinical Conference & the National Conference for Male Family Planning. This conference is designed for advanced practice nurses, physicians, physician assistants, registered nurses, counselors, social workers, health educators & all other personnel who interact with clients in health centers providing family planning services.
MFHS staff members were on hand for the poster session to answer questions and discuss the kiosk throughout the conference. Conference attendees learned about using the kiosk within WIC and family planning health centers, where participants could learn about relevant health topics through articles, videos and quizzes. Highlights also included the "Do I Qualify?" section that allows participants to discover all the programs that they may be eligible for, along with the next steps to enroll. Conference attendees enjoyed the interactive elements, including the use of QR codes that allow participants to take the web version of the kiosk with them for later viewing.
Health educators interested in learning more about the Maternal & Family Health Services kiosk can visit the kiosk FAQ on MFHS.org.
About Maternal & Family Health Services: MFHS is a non-profit health and human service organization that serves over 125,000 people in 16 Pennsylvania counties with programs that help women, children and families gain access to health and nutrition services. This agency was founded in 1971 and is celebrating 41 years of connecting the community to better health. For more information about MFHS, visit mfhs.org or call 1-800-367-6347.