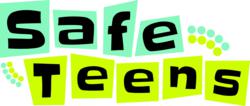 The Safe Teens website is designed to help teens and young adults learn how to make healthy choices about safe sex, relationships and more.
Wilkes-Barre, PA (PRWEB) June 30, 2011
Maternal & Family Health Services, Inc. (MFHS) announces the launch of the newly redesigned Safeteens.org. The Safeteens website is designed to help teens and young adults learn how to make healthy choices to protect their futures. The site, which covers topics such as safe sex, relationships, peer pressure, nutrition, and more, is designed to empower teens to make positive choices and connect with reliable health information and services, while communicating messages of responsibility, health and wellness. Originally launched in 2002, the site has been redesigned with teen needs in mind and integrates many new interactive features.
Safeteens.org, which is sponsored by the Pennsylvania Department of Health, is an online resource for teens everywhere for reliable health information, including understanding and preventing teen pregnancy, building healthy relationships and protecting teen health. The new site has expanded to address current issues facing teens, such as online safety and resources for LGBTQ teens. The website is also a direct link for teens in Pennsylvania who need confidential access to a family planning health center.
The new Safeteens website includes interactive polls, a new blog, and several easy ways for teens to connect with the site, including Facebook and Twitter. Teens can get confidential answers to health questions via the Ask Nurse Kathy section. Pennsylvania teens can contact Safeteens by calling 1-866-Safeteens to find a family planning health center in their community
.
Safeteens.org will celebrate the launch of the new website by giving away a Wii on Twitter to one of their followers in July. Details of the contest will be announced on the Safeteens blog and social media profiles in the upcoming week.
About Maternal & Family Health Services: MFHS is a non-profit health and human service organization that serves over 125,000 people in 16 Pennsylvania counties with programs that help women, children and families gain access to health and nutrition services. This agency was founded in 1971 and is celebrating 40 years of connecting the community to better health. For more information about MFHS, visit mfhs.org or call 1-800-367-6347.
###