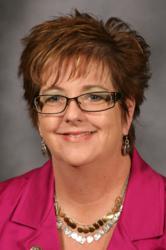 Orlando, FL (PRWEB) January 31, 2012
My Florida Regional MLS (MFRMLS) announced today that Inman News, the nation's leading source of real estate news, has selected Merri Jo Cowen, RCE, Chief Executive Officer of MFRMLS, as one of the most influential leaders in real estate. The Inman 100 report, an annual list of the Most Influential Real Estate Leaders, recognizes those who embody leadership, ingenuity, strength, conviction, power, persistence, perseverance and progress -- their voices and actions can move the industry toward change.
"I am honored to be among such esteemed colleagues and industry leaders recognized in the Inman 100 report," stated Cowen. "I am truly passionate about the current direction of our industry, and am motivated by a desire to continue providing value to our Members."
With more than 20 years of experience in MLS Operations with the Northern Nevada Regional MLS in Reno, Cowen has pioneered new technologies such as a new consumer website (MyFloridaHomesMLS.com), data syndication and several other initiatives.
In 2011 alone, Cowen led an expansion effort of My Florida Regional MLS to include the addition of approximately 6,000 new Members as well as the implementation of the award winning tool Down Payment Resource, a product designed to help bridge the down payment gap for homebuyers, as well as move real estate transactions forward in a difficult lending environment.
Nationally, Cowen serves on the "MLS Issues and Policy Committee" for the National Association of REALTORS®. Cowen also holds the title of 2011 President of the Council of Multiple Listing Services where she makes moving the organization forward into a leading industry voice and resource for MLSs a high priority. She additionally serves on the Board of Directors for the MLS Domains Association.
"Merri Jo's commitment to our MFR Members is first-rate, it is no surprise that she would be selected as an influential real estate leader," said Bill Dryburgh, My Florida Regional MLS Board President. "Merri Jo is dedicated to providing relevant technology products and tools that will help our Realtor® Members effectively market and sell more real estate."
For more information on the Inman 100 Report: http://www.inman.com/inman100
About My Florida Regional MLS
Headquartered in Orlando, FL, My Florida Regional MLS (MFRMLS) is Florida's largest multiple listing service (MLS) company with over 32,000 members in 13 central and southwest Florida counties. Owned by 15 shareholder Realtor® boards, MFRMLS offers a comprehensive suite of productivity and marketing tools to professionals in the real estate industry. To complement its core residential offerings, MFRMLS operates a commercial information exchange, called My Florida Commercial Real Estate, located at http://www.MFCRE.com. MFRMLS also operates the consumer home and property search website http://www.MyFloridaHomesMLS.com. For more information, please visit http://www.MFRMLS.com.
###