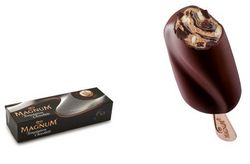 (Vocus) November 3, 2010
Streets Magnum is set to take ice cream-lovers to new levels of indulgence with the launch of Streets Magnum Temptation - Chocolate.
The decadent new Magnum features delectable white chocolate and brownie pieces with swirls of sumptuous chocolate sauce in a creamy choc centre and encased in a Belgian chocolate shell.
Presented in an eye-catching jewellery box, Magnum Temptation Chocolate immediately distinguishes itself in a class of its own and as something special – it's the perfect gift to give yourself!
Available now in supermarkets, petrol and convenience stores nationally. Single serves RRP$4.40 and three-pack grocery multipacks RRP$7.79.
About Unilever
Unilever works to create a better future every day. Our company helps people feel good, look good and get more out of life with brands and services that are good for them and good for others.
Unilever is one of the world's leading fast-moving consumer goods companies, with strong local roots in more than 100 countries. Globally, Unilever has around 163,000 employees, and in 2009 generated annual sales of €40 billion. In Australasia, Unilever employs more than 1,600 people, and has offices and manufacturing facilities throughout Australia and New Zealand.
Unilever's portfolio features some of the world's best-known household names. In Australasia, our name brands include Flora, Lipton, Bushells, Dove, Rexona, Vaseline, Omo, Surf, Continental, Chicken Tonight and Streets.
For more information about Unilever and its brands, please visit http://www.unilever.com.au
###