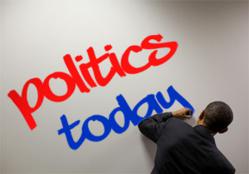 It's great to have a political news app like Politics Today with all the sources, analysis and news in one place on my iPhone and tablet. Genius, I check it multiple times a day
New York, NY (PRWEB) February 28, 2013
Top-rated political news app, Politics Today today gives its users more sources to choose from just in time for the partisan battle of the sequester, as both parties play the blame game over the long anticipated cuts. A Washington Post chart exposes that teachers and law enforcement personal will feel most of the affects if the cuts are passed.
"These cuts are wrong, they're not smart, they're not fair, they're a self-inflicted wound that doesn't have to happen," President Obama told workers at Newport News Shipbuilding. Gov Bobby Jindal (R) disagrees. "The president needs to stop campaigning, stop trying to scare the American people, stop trying to scare the states," he said Monday.
However, the American public seems a lot less interested and not as involved in the cuts this time around. Only three out of 4 people actually follow it, according to a recent Pew poll.
The political news app breaks the news up into categories by party affiliation, polling, and general press, and the user can see differing views and media stories. "This is a great app to track political news and read about it from both sides. It really broadens your perspective and it's great to have a political news app with an all in one package," said George S, one of the app's users.
This U.S. Politics l app's core features include:
Bespoke Sources LIst. Content articles pulled from individualized customized lists of publications, journalists, institutions and opinion leaders for each subject channel.
Proprietary Algorithm. This App uses a proprietary MarketPulse algorithm to review content source lists selecting interesting articles, videos and audio content and filtering out items considered of low interest.
Friendly User Interface. The App's user interface is designed to facilitate the efficient review and reading of the content, providing for easy operation and movement throughout.
Current Content Curation. Politics Today delivers professional-grade Current News and Analysis on U.S. Politics, including views, opinions and articles by leading news outlets, political analysts from the whole spectrum of opinions as well as news and declarations from Republican and Democratic politicians.
Sharing. Allows content sharing using a variety of social tools, including Twitter, Facebook and Instapaper for future reference.
Requirements

iPad and iPhone
Internet Connection to load and view content
Mighty Mack is a leading publisher of distinguished digital products for the consumer and professional markets. The Company leverages newly available digital tools to create, design, and share new ways of consuming information and experiencing the world around us. The company has released a variety of best-of-class Apps, including Advertising Today, Science Today, Where2Boss?, Agora Briefcase, Breaking News, Film Today, among many others.
To learn more about MightyMack please visit their website at http://www.mightymack.com or email them to press(at)mightymack(dot)com.