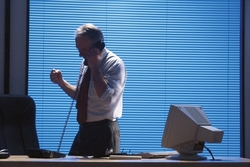 Houston, TX (PRWEB) September 21, 2007
To keep Broker/Dealers and Investment Advisers current with regulatory changes and deadlines, MGL Consulting Corporation will sponsor its quarterly "Compliance Chat" teleconference scheduled for 3:15pm CST on Wednesday, September 26, 2007. The featured topic this conference is "The Evolving Compliance Environment."
Led by the firm's senior compliance experts Daniel E. LeGaye, Michael Schaps, and Curtis Sorrells, this MGL teleconference will cover a broad variety of financial and operational issues relevant to both BD and IA audiences. This will include updates on the Merrill Rule, the revised Anti Fraud Rule and emerging FINRA regulations. Current compliance issues facing the industry will also be covered in terms of practices, procedures and reporting.
The format for the conference will be roughly 1 hour, with 10 minutes of Q&A afterwards.
Dialing in to the Quarterly Compliance Teleconference gives attendees access to a valuable source of timely news and information on key financial services industry issues.
To register for the Compliance Teleconference and view the specific agenda for the current teleconference, visit MGL Registration or Teleconference Agenda.
To submit questions for the Compliance Chat before or during the conference, please email Deirdre Patten, dpatten(at)mglconsulting.com
Based in The Woodlands, TX (near Houston) and founded in 1984, MGL Consulting Corporation is an industry leader in risk management and business solutions offered to broker/dealers, investment advisers and insurance agencies. The firm's industry experts and business professionals have more than 300 years of experience, encompassing hands-on legal, compliance, regulatory, operations, continuing education and accounting disciplines.
For more information on these and other risk management and business solutions services visit http://www.mglconsulting.com.
For more information contact Mike Beyeler (mailto:mbeyeler@mglconsulting.com) at 281-367-0380.
###