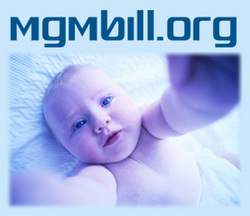 Boys are born with a foreskin for a reason
San Diego, CA (PRWEB) January 11, 2011
Intactivists from across the country are once again calling on state and federal lawmakers to prohibit circumcision of boys. Regional directors from the children's rights group MGMbill.org submitted proposed bills to more than 2,800 legislators yesterday, urging them to extend the existing ban on forced female genital cutting to include males.
Matthew Hess, the group's president, said circumcision is medically unnecessary and robs men of their right to an intact body. "Boys are born with a foreskin for a reason," said Hess. "The foreskin functions like an eyelid, providing protection and keeping the penis moist and sensitive. It also contains thousands of nerve endings and acts as a natural lubricant during sexual activity. Boys deserve to be legally protected from forced circumcision the same way that girls are protected."
Ron Low, director of MGMbill.org's Illinois state office, has invented several devices to help circumcised men deal with their loss while also pushing for legal action to protect infant boys.
"The damage caused by circumcision is very real," said Low, who owns and operates TLCTugger.com, a foreskin restoration device manufacturer. "Fortunately, men can reverse some of that damage by stretching their remaining shaft skin to create a substitute foreskin. But the specialized nerve endings removed from circumcision do not grow back, and it's a crime that so many men must go their entire lives without ever experiencing sex the way nature intended."
MGMbill.org's Washington state office director believes that circumcision is a choice for each man to make on his own.
"I left my two sons intact because I felt it was the right thing to do," said Jennifer Coulter, who lives near the westernmost part of the Puget Sound. "But deciding whether to circumcise a boy is a choice that no parent should ever have to make, because male and female children deserve the same right to genital integrity. We need to amend current laws that protect girls from genital cutting so that boys are protected, too. It's only fair."
Male circumcision has been under intense legal scrutiny over the past year. In March, the Massachusetts Joint Committee on the Judiciary debated MGMbill.org's genital integrity bill for that state. The bill was defeated, but it marked the first time in U.S. history that a legislative body held a public hearing on a bill that would specifically outlaw forced circumcision of males. Later that same month, the Supreme Court of British Columbia in Canada sentenced a father to a year in prison for circumcising his four-year-old son at home for religious reasons. In May, the Royal Dutch Medical Association issued a statement declaring that male circumcision "conflicts with the child's right to autonomy and physical integrity", adding that there are "good reasons for a legal prohibition of non-therapeutic circumcision of male minors, as exists for female genital mutilation".
2010 also saw the publication of MGMbill.org's new Foreskin Man comic book series, which follows the adventures of a fictional intactivist superhero. And in November, a group of intactivists garnered national attention when they began collecting signatures to put the San Francisco MGM Bill on the November 2011 ballot. The measure would prohibit circumcision of boys throughout the City and County of San Francisco.
In the meantime, male circumcision rates appear to be dropping fast as more parents and doctors learn about the damaging effects. In August, a study of more than 6.5 million boys conducted by a Centers for Disease Control researcher found that the U.S. infant circumcision rate had plummeted to 33% percent in 2009 - down from 56% in 2006.
In addition to every member of Congress, state legislators in Arkansas, California, Florida, Georgia, Illinois, Iowa, Maryland, Minnesota, New York, Oregon, Pennsylvania, South Carolina, Texas, and Washington all received the MGM Bill proposal yesterday.
###