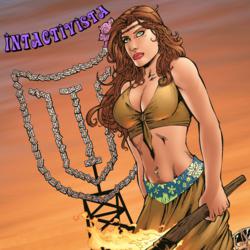 At this moment in our history, Americans are engaged in a culture war over circumcision the likes of which we've never seen.
San Diego, CA (PRWEB) April 24, 2013
Foreskin Man fans have some new electronica to go along with their comic books today. MGMbill Records, the recording arm of MGMbill.org, has released a psychedelic trance song named "Intactivista". The track is performed by The Intactivist Underground, the torch wielding band of anti-circumcision rebels featured in Foreskin Man #2.
The song lyrics were penned by Matthew Hess, who commissioned the electronic music to promote his proposed legislation that would protect boys in the USA from being forcefully circumcised.
"'Intactivista' is a song about a mother and her son, with four different parts," said Hess. "In the first part, called 'Foreskin Frenzy', a young woman makes love to an intact man for the first time. It is the most passionate encounter she's ever had, because the foreskin provides unique stimulation that elevates both male and female sexual pleasure.
"In 'An Intactivist is Born', which is the second part, the woman is impregnated, goes through gestation, and gives birth to a son. It is during this magical process that the young mother realizes she has become an intactivist, and that she and her son must do something to protect other boys from the cold-blooded practice of circumcision.
"In 'Prepuce School', the third part, the mother leads her son to the secret base of The Intactivist Underground to be trained for an important mission. The song finale is 'Circumcision Wars', where her son engages in a series of battles to free baby boys from circumcisers who are preparing to cut off their foreskins."
Hess said the new song reflects the current social climate surrounding male genital mutilation.
"At this moment in our history, Americans are engaged in a culture war over circumcision the likes of which we've never seen," said Hess. "On one side, you have intactivists who are fighting to give men the same legal right to body integrity that women have had for more than fifteen years. On the other side are entrenched medical and religious interests that seek to perpetuate one of the cruelest practices ever conceived – the mutilation of a child's sexual organs."
"Intactivista" is available to download for free at http://www.foreskinman.com.
Intactivista Song Lyrics
Part 1: Foreskin Frenzy
Mmmm, foreskin
Fsss…ahhh
Ohhh
Hhhhunnnnnn
Part 2: An Intactivist is Born
Intactivista
Intactivista
Part 3: Prepuce School
This way
Yes
The prepuce is the protective shield of the glans
The density of the innervation in the foreskin is twenty thousand divided by fifteen inches squared
The sum of the gliding mechanism and the frenulum is nirvana
Conclusion: Burn the circumstraints
I am talking about a revolution
We must storm the hospitals
We must free the boys
Now go!
Part 4: Circumcision Wars
You have done well, my son
Come home