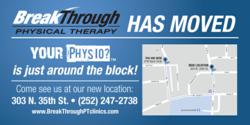 We know our patients have a choice when it comes to their physical therapy needs; we would like to take this opportunity to say a big thank you to all of our patients
Morehead City, North Carolina (PRWEB) January 15, 2012
BreakThrough Physical Therapy (BTPT), an industry leader committed to being the best first choice for muscle aches, joint pain, and mobility issues, is excited to announce that it is moving to a new location. The new clinic, opening on January 16, 2012, is located at 303 North 35th Street in Morehead City and is less than a half mile from its current location. The larger space will translate into improved patient care, new amenities for employees, and room for growth.
"We invite everyone to stop by and see the new clinic," says Clinic Manager Matt Ware PT, MPT. "We are fortunate to find such a nice space so close to our current clinic. We really wanted to limit the impact that relocation could have on our patients and employees."
The new location features free parking, easier access to the building, and larger patient rooms. As always, appointments at the Morehead City clinic are available within 24 hours and patients will enjoy the same friendly atmosphere, energetic staff, and personalized care. The BTPT Morehead City staff is also planning an open house for the community. Details about the March event will be announced soon.
"We know our patients have a choice when it comes to their physical therapy needs," adds Ware. "We would like to take this opportunity to say a big thank you to all of our patients for choosing BreakThrough Physical Therapy."
About BreakThrough Physical Therapy:
BreakThrough Physical Therapy is a private physical therapy practice with five locations in Greensboro, Fayetteville, Morehead City, and Winston Salem, North Carolina. All BreakThrough Physical Therapists utilize the newest research to deliver the best results for patients as quickly as possible. BreakThrough Physical Therapists pride themselves in being experts in physical therapy, delivering hands-on treatment to achieve optimal results for patients suffering from sports related injuries, back pain, achy joints, wounded hands, and work injuries. For more information about BreakThrough, visit BreakThroughPTClinics.com.
###