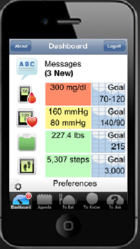 "We are very excited about being part of such an important trial using mHealth to engage and empower people using mobile phones as virtual coaches." - Robert Schwarzberg, Sensei CEO and Founder
Boca Raton, FL (PRWEB) June 08, 2011
Sensei, Inc, a leader in mHealth, health solutions delivered on mobile devices, announced today that it has been awarded an NIH grant for diabetes and prediabietes research in association with the University of Miami, Miami VA Healthcare System, and the Health Foundation of South Florida. The research will test an innovative mHealth approach to lifestyle and self management of diabetes and prediabetes.
Modest lifestyle changes including losing a small amount of weight and increased activity can improve or delay the onset of diabetes in almost 50% of cases according to the Diabetes Prevention Program.
The Diabetes Prevention Program, the VA Diabetes Trial, as well as best clinical practices in population health for diabetes and prediabetes, are the basis for the trial of a new Sensei mobile application designed to encourage simple lifestyle changes through personalized expert guidance.
The user's mobile device is transformed into a virtual coach that personally guides them to better health through healthier nutrition, fitness, weight loss and tips on self management.
Wireless tracking and real time feedback for key biometric measures and progress include: blood glucose, blood pressure, weight and daily step count.
"We are very excited about being part of such an important trial using mHealth to engage and empower people using mobile phones as virtual coaches," said Sensei CEO and founder Robert Schwarzberg. "The virtual coaches encourage healthy nutrition, fitness, weight loss and better self management of diabetes."
Participants will be prompted to measure key biometric data, eat healthier, learn and practice appropriate self management of diabetes, hypertension and hyperlipidemia. There are daily alerts that teach and create calls to action supplemented by a daily agenda and reference information around the different conditions and wellness.
About Sensei, Inc
Started in 2005, Sensei is a leading mHealth company creating innovative solutions for health and health benefits focused on improving outcomes and lowering costs. Sensei's solutions are based on our extensive experience in population health, mobility and telemedicine. Sensei's solutions engage and empower people to live healthier lives providing actionable insights at teachable moments. Leveraging new approaches to monitoring such as, M2M (machine to machine), tracking, feedback, incentive and rewards; we make technology personal, integrating information systems and wireless technology. Sensei solutions address the needs of the disparate stakeholders in healthcare, consumers, health plans, employers, ACO's and other health related organizations.
Sensei is headquartered in Boca Raton, FL. For further information about Sensei, Inc. visit http://www.sensei.com
###