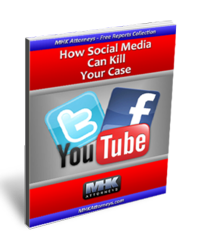 ...according to an AAML survey, 5% of survey respondents cite Twitter as a source of electronic evidence, and 66% cite Facebook.
Stroudsburg, Pennsylvania (PRWEB) February 28, 2012
Because sharing information is a natural tendency, Stroudsburg divorce lawyer, Patrick J. Best, writes new report to inform clients how to best protect themselves from the effects of Social Media on their case. The report is scheduled to be released March 3, 2012.
People naturally like to share information about their lives. But, like anything else, too much of a good thing can turn bad, and people can share too much. Online social networking, a network completely based on sharing, allows easy access to this information. This is especially dangerous for those involved in Stroudsburg divorce, custody, and family law matters. Either party can follow the trail left behind by e-mail, posts, pictures and other sources from their adversary to help build their cases.
Sources of Evidence: Twitter, Facebook, and Blogs
Putting information online opens the door for others to draw inferences that may or may not be true. What follows is a list of possible items to think twice about posting online, especially when involved in a divorce:

Pictures of property/materials/goods: from homes, cars, and boats to flat-screen televisions and electronics, photos of these materials can create a false impression in the courtroom that may drastically impact family law issues such as spousal support payments or child custody.
Pictures of family, friends, and acquaintances: from business conferences and vacations to nights out, people can draw conclusions that call into question the date of infidelity, separation, altercations, and more.
Facebook, Twitter, and Blog posts: people typically use status updates, wall posts, and blogs as a platform to convey their opinions and thoughts; negative or disrespectful remarks about a husband or wife during a custody, Tannersville child support, divorce or other family law proceeding can affect the outcome.
Private messages: e-mails, private messages, and many other forms of communication, can all be used as evidence in court. Best idea: think of anything that you send through or upload to the internet as public record.
Marlene Eskind Moses, president of the American Academy of Matrimonial Lawyers (AAML), says, "divorce always results in heightened levels of personal scrutiny." On Twitter, members "tweet" (i.e. broadcast) short messages of 140 characters or less on the Web, and according to an AAML survey, 5 percent of survey respondents cite Twitter as a source of electronic evidence. 66 percent cite Facebook.
To wrap all of this up, it can be concluded that whether it's email, Facebook, Twitter, or any other social networking site or blogs, the content and information generated on these sites is being used in the practice of Mt. Pocono divorce and family law, because the information posted online naturally can be very personal and informative.
To learn more about how email and social networking sites may negatively or positively affect your divorce case, it's a good idea to speak with an experienced family law attorney in your area.
To order a copy of the report, click here: How Social Media Can Kill Your Case MHK Attorneys is a progressive Pennsylvania law firm specializing in the following areas of practice: Family Law, Social Security Disability, Workers' Compensation, Auto Accidents, and Criminal Law. Free Books and Information before you hire an attorney!
###