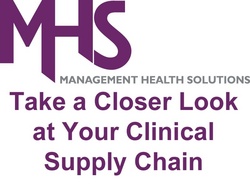 We are excited to be working with Dan Lubin and are confident that his expertise will be an important part of the company's growth
Fairfield, Connecticut (PRWEB) April 22, 2009
Management Health Solutions, Inc. (MHS), a leader in the field of clinical supply chain management, announced today that Daniel C. Lubin, a Managing Partner of Radius Ventures, has joined the MHS Board of Directors.
Mr. Lubin previously managed the Health Care Group of the Schroder Wertheim & Company Investment Banking Division and co-founded KBL Healthcare Inc. a health and life sciences venture capital and investment banking organization. Mr. Lubin is a graduate of the Georgetown University School of Foreign Service and received his M.B.A. from Harvard Business School.
"Dan Lubin's past experience in the healthcare industry provides insight to the financial challenges specific to hospitals along with a broader understanding of how those financial challenges affect day-to-day operations," said William Zierolf, CEO of Management Health Solutions. "We are excited to be working with Dan Lubin and are confident that his expertise will be an important part of the company's growth," said Zierolf.
About Management Health Solutions
Management Health Solutions, Inc. (MHS) provides leading clinical inventory valuation, inventory management, data cleansing and data maintenance solutions to many of the largest health systems in North America. MHS combines a 'best-in-class' professional services organization with leading edge technology enabling hospitals to generate a measurable return on investment by reducing clinical inventory costs. http://www.mhsinc.com
###