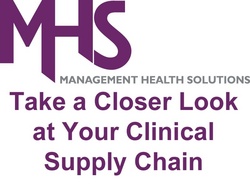 MHS has introduced an interactive reporting capability and the ability to create custom reports is now possible with the CIV v1.0 release
Fairfield, CT (PRWEB) April 30, 2009
Management Health Solutions,Inc.(MHS), the leading provider of clinical supply chain management solutions to the health care industry has announced improvements to their Clinical Inventory Valuation (CIV) Solution. CIV Solution is designed to give hospitals control over the clinical inventory supply process and unlock huge savings.
With their CIV, MHS employs experts who use industry best practices and state of the art technology to correctly capture and report inventory on a hospital's shelves. Consequently, that inventory is valued based on pricing from the hospital's item master file and purchase order history file. The data from these inventories are available in electronic report format from MHS. The CIV v1.0 portal release enhances the client's secure view, use and filtering of the inventory data.
"The CIV v1.0 portal release provides our clients the ability to customize and search their valuation results, and will make it possible for a hospital or health system to view all facility locations with one secure login," said Kenneth Kelliher Co-founder and EVP Sales. "MHS has introduced an interactive reporting capability and the ability to create custom reports is now possible with the CIV v1.0 release," said Kelliher
The CIV service by MHS brings state of the art tools, experienced personnel and industry best practices to deliver better organization and information with every inventory. Whether it is a single department or an entire facility, MHS specializes in not only conducting an accurate physical inventory but provides actionable, value-add information that enables leaders to trim excess spending without compromising care or staff satisfaction.
About Management Health Solutions, Inc.:
Management Health Solutions, Inc. (MHS) provides leading clinical inventory valuation, inventory management, data cleansing and data maintenance solutions to many of the largest health systems in North America. MHS combines a 'best-in-class' professional services organization with leading edge technology enabling hospitals to generate a measurable return on investment by reducing clinical inventory costs. http://www.mhsinc.com
###