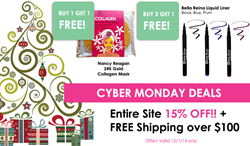 Delray Beach, FL (PRWEB) November 30, 2014
Mi Bella Reina is charming beauty shoppers with some of the best beauty deals of the year on Monday, December 1st. Shoppers can find savings for the entire week with hundreds of skin care and makeup deals plus new glamourous deals every day. The stylish and alluring Cyber Monday deals include BOGO's, Gifts with Purchase and 15% off of the entire site.
With shoppers looking for the best savings for chic, stylish gifts, MiBellaReina.com will offer the season's hottest cosmetics, skin care, aromatherapy and fragrance gifts. The exclusive deals will appear on the "Daily Deals" tab. Holiday shopping is fun and easy on MiBellaReina.com's mobile-friendly website.
Some of the amazing great gifts and deals at Mi Bella Reina.com that will be available include:
Makeup:

Skin Care

Gifts

Save 28% on Bling Sting Pepper Spray in Black, Pink or Silver Rhinestone Case
Save 43% on Satin Lavender Scented Eye Pillows
Nails

Aromatherapy

Save 26% Energy & Depression Relief Body Spray
Fragrance

Fantasy Gift Set by Britney Spears for Only $59
Calvin Klein Gift set for Him on Sale for Only $48
Accessories

Save 30% on Marrero Collection Handbags
Shoppers wanting more information on products or to see the daily deals for Cyber Week, visit MiBellaReina.com. Mi Bella Reina specializes in discovering products for women that get the best results.
About MiBellaReina.com
Mi Bella Reina means "my beautiful queen" in Spanish; it is about helping you find your beautiful queen. From skin care to makeup to aromatherapy and health, Bella Reina shows you simple, easy beauty and health tips for the busy woman who needs real results. The power of believing you are beautiful starts here at MiBellaReina.com.