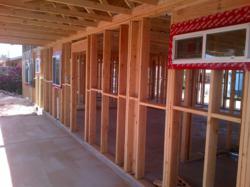 Our partnership with MIWD over the years has been fantastic and I knew I could count on their help.
Yuma, AZ (PRWEB) April 10, 2013
Tony Giannopolous of Yuma, AZ is rebuilding thanks to the efforts of the Yuma South West Contractors Association, Foxworth-Galbraith Lumber Company, and MI Windows and Doors.
In the early morning hours on December 9th, 2012, Tony Giannopolous woke to an electrical fire in his Arizona home. He escaped unharmed, but the home was a complete loss. Without homeowners insurance, Giannopolous was faced with having to rebuild from his pocket.
Giannopolous is a very well-known and well-liked member of the Yuma community. He works part time at the local Sam's Club where he has become known for the smiley faces he doodles on customers receipts. His coworkers took the lead as the community rallied to raise funds, furnishings, clothing, services and more to help him get back on his feet. Despite the generosity, he was still far behind what was required to rebuild his home.
Giannopolous' situation and the money raised caught the attention of the local media and eventually Habitat for Humanity. Habitat, with the help of the Yuma Contractors Association, was able to provide the remaining building products and begin the process of rebuilding the home.
On March 6th, the framing of the house began and it due to be completed May 3rd, 2013.
The new windows supplied by MI Windows and Doors (MIWD) will provide comfort and energy efficiency. The aluminum Builder Series Windows are ENERGY STAR® rated, featuring MIWD's dual pane TMAX SC™ glass packages that are optimized for southern climates with significant cooling and glare-reduction requirements and have double strength High Performance Low-E glass.
MI Window and Door's Arizona Sales operations are handled by Authorized Independent Sales Firm, Southwest Rockies Sales and Tom Fullerton. Tom proudly represents MI Windows and Doors throughout the region and is always eager to support his community.
MIWD and Foxworth-Galbraith have partnered for over 30 years and Felipe Gonzalez was instrumental in organizing the supply drive. "As soon as I heard about Tony's situation I called Tom," stated Gonzalez. "Our partnership with MIWD over the years has been fantastic and I knew I could count on their help." Gonzalez was able to play a big part in the collection of new materials due to his role in the Yuma Southwest Builders Association.
The Yuma Southwest Builders Association is a non-profit trade association that was created in 2002 out of a need for local representation in the contracting industry. They specialize in helping to gather labor and materials during disasters and other times of need. They also work with contractors in the area, assisting with workman's compensation, dividend checks, and location of building materials. "Ultimately, we want to help our community," said Gonzalez. "We try to reach out in any way we can. Tony's house is looking great. That's what we are here for and it's wonderful to see the benefits of our efforts."
Founded in 1947, MI Windows and Doors manufactures energy efficient windows and patio doors and serves the new construction and replacement window industry. The company's character, integrity, and kindness, is exemplified by the people that represent it across the country.
Contact:
Katie Williard
kewilliard(at)miwd(dot)com
Filipe Gonzalez
fgonzale(at)foxgal(dot)com