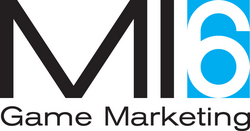 Marketers in the interactive entertainment industry must constantly adapt to effectively utilize social networking technologies, and Osifchin's execution in this realm is exemplary
Los Angeles, CA (PRWEB) March 5, 2009
MI6, the association dedicated to serving marketing and promotion professionals in the video game and interactive entertainment community, today announced that Nicholas Negroponte and Gary Osifchin will deliver keynote speeches for the 4th Annual Video Game Marketing Conference on April 8, 2009 in San Francisco. The highly anticipated event will be moderated by Spike TV host Geoff Keighley, and will feature additional speakers, sessions and panels exploring the new and innovative ways in which game publishers and studios are increasing revenues across traditional and non-traditional platforms.
The 2009 MI6 Inspiration Keynote will be from Nicholas Negroponte, author of the bestselling book, Being Digital, and whose One Laptop Per Child is a conceptual and technological breakthrough that is revolutionizing computing and transforming education and culture worldwide. His keynote will explore how the intersection of emerging media technology and interactive gaming entertainment is impacting society.
"MI6 attendees will have the rare opportunity to benefit from a visionary like Negroponte, whose unique insights on innovation, technology and their impact on business is unmatched in the industry," said Jonathan Block-Verk, president of MI6. "As the industry continues to thrive despite the challenging economic climate, MI6 is more valuable than ever, bringing videogame marketers together to meet, share best practices, and learn how to maintain industry growth."
Accepting the MI6 Brand Marketing Partner of the Year Award will be Gary Osifchin, Marketing Director for Cadbury's Stride® brand for the United States and Canada. Osifchin is an accomplished marketer with deep social networking credentials. He has an extensive background in targeting the college and teenage market through creative sponsorships with key videogame properties including RockBand®, Major League Gaming® and the Video Game Awards®. Osifchin's keynote address will focus on strategies for Stride, their alliance with the video game industry and the vast potential of social marketing tools and how they can transform any campaign.
"Marketers in the interactive entertainment industry must constantly adapt to effectively utilize social networking technologies, and Osifchin's execution in this realm is exemplary," said Block-Verk. "MI6 is all about recognizing creativity and innovation that creates results, and we're thrilled to highlight Osifchin's achievements at this year's Conference."
MI6 will feature two tracks filled with innovative discussions about the gaming world, focusing on both creative and business marketing roles. Sessions include representation from executives at the best brands in the industry including YouTube/Google, Electronic Arts, Capcom, Activision and Ubisoft. Session highlights to date include:

Casual to the Core: Redefining the Gaming Dynamic: An exploration into the redefinition of the "video game" and a look into the seismic "casual" shift in marketing to the preconceived game culture.
Crack the Social Marketing Code: From Facebook to Twitter to proprietary platforms a unique panel of experts will analyze the social marketing paradigm and assess the strategies that successfully integrate the brand.
Getting to the Core of the MMO Hardcore
A deep and thorough case study exploring the multi-faceted and enormously successful launch of Sony Online Entertainment's MMO. Learn how Director of Global Brand Marketing, Laura Naviaux, utilized market research and testing to hone brand identity, accentuate customer acquisition and maximize product distribution.

PR Rules of Engagement: A discussion around effective strategies, innovative techniques and getting the most from the unpaid media.
World-renowned creative boutique, Mekanism takes you on a creative journey through the world's most innovative video game-based advertising, marketing and creative communications. From television spots and cinematics to interactive and free media campaigns, you'll get a glimpse into how the Davids and the Goliaths are mastering the tools creative marketing.

Gaming 20/20: Michael Pachter hosts a lively conversation with the top decision makers in the video game business about mastering their momentum.
The MI6 Video Game Marketing Conference takes place at the Grand Hyatt San Francisco in Union Square April 8, 2009. To view the complete 2009 session schedule, participant updates and registration information, visit http://www.mi6conference.com. Additional speaker and panel information as well as giveaways will be announced on the new MI6 Twitter feed: twitter.com/promaxbdami6.
About MI6
MI6 is a non-profit association dedicated to maximizing the effectiveness and supporting the success of marketing, promotion and advertising professionals involved in the interactive entertainment community. The MI6 Conference and Awards celebrates marketing excellence overall, while providing an all-inclusive forum for common thought, bond and community. For further information, please visit http://www.mi6conference.com.
###