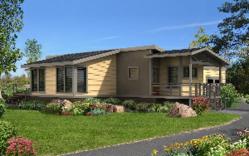 The MI EnergyCore window system is a perfect fit for net-zero energy homes like this one.
Las Vegas, NV (PRWEB) January 29, 2013
MI Windows and Doors' MI EnergyCore® windows were featured in BASF's BEYOND.High Performance℠ net-zero energy home at the International Builders Show, Jan. 22-24, in Las Vegas.
Homes built to the BEYOND.High Performance program requirements are 50 percent more energy efficient than a standard code-built home and reduce indoor water use by 20 percent or more. They incorporate renewable energy and occupant behavior to reach net-zero energy use.
"We are honored that BASF chose MI EnergyCore windows for their BEYOND.High Performance home," said Mike DeSoto, Chief Operating Officer for MIWD. "The MI EnergyCore window system is a perfect fit for net-zero energy homes like this one."
The MI EnergyCore® Window System is designed for optimal energy efficiency and high performance without compromising style and functionality. The system's high performance is derived from a combination of patented AirCell™ PVC frame technology, TMAX™ Insulating Glass, and a design that incorporates numerous physical barriers against air and water infiltration. The dual-pane, insulated glass unit features Duralite® warm-edge single-seal spacers from Quanex Building Products that include BASF Oppanol® PIB as a key ingredient.
The windows selected featured the SuperCapSR™ bronze exterior color. SuperCapSR is a co-extruded acrylic layer that is thermally fused to the PVC creating a molecularly bonded color layer that becomes an integral part of the profile. SuperCap SR was derived from military infrared reflective technology, and its surface reflects 76% of infrared light to reduce solar heat and prevent heat-related frame distortion. The highly reflective properties of SuperCap SR prevent the heat build-up issues that have been historically problematic when darker colors are applied to PVC. Unlike painted vinyl, the tough acrylic color layer is highly scratch, chip, and chalk-resistant and 12 times harder than applied paints.
"This program introduces a new way of thinking to sustainable construction," said Rick Davenport, Director of Sustainable Construction for BASF in North America. "The BEYOND.High Performance home focuses on the people inside the structure — how they live and their well-being. In essence, this program unites chemistry and humanity to ensure that all individual parts of the home work together to achieve comfort, efficiency and affordability."
The net-zero energy home is a result that home builders can achieve from using the BEYOND.High Performance program offered by the Center for Building Excellence at BASF. This program provides consulting, plan reviews and other services that enable builders to construct sustainable houses affordably. This includes a wide range of metrics and features for support before, during and after the build.
The program emphasizes cost-effective techniques to reach extraordinary levels of efficiency. All homes built to the BEYOND.High Performance requirements must achieve a Home Energy Rating System (HERS) Index score of 50 or lower.
Innovative construction techniques include a high-performance, hybrid insulation design in the roof decking – consisting of open-cell spray foam applied on a layer of closed-cell foam. Another unique technique is the use of fluid, spray-applied flashing on the exterior for superior air and moisture barrier performance. Other features of the BEYOND.High Performance home include use of:
-insulated concrete forms,
-advanced framing techniques to reduce lumber use,
-light-emitting diode (LED) lighting, and,
-low-flow faucets
"Right-sizing the mechanicals to select the right equipment is part of our holistic systems approach when building these homes. This approach allows the homeowner to enjoy smart technology and reduced energy use at an affordable cost," said Davenport. "Every aspect of this home, from the ground up, works as part of a system to create the most energy-efficient and sustainable environment possible."
For more information about this project, or to learn more about BASF's commitment to sustainable construction, visit http://www.construction.basf.us/showhome .
About MI Windows and Doors
MI Windows and Doors, Inc., located in northern Dauphin county has been a leading manufacturer of home products for over 60 years providing quality, efficient products throughout the United States. MI has long contributed to Habitat for Humanity by donating windows and doors to many new construction and rehab projects. MIWD has raised nearly $1 million through sponsorships from their network of suppliers, customers and community friends for the Annual Habitat for Humanity Golf outing over the past thirteen years. For more information, visit http://www.miwd.com
About BASF - The Chemical Company
BASF Corporation, headquartered in Florham Park, New Jersey, is the North American affiliate of BASF SE, Ludwigshafen, Germany. BASF has more than 16,000 employees in North America, and had sales of $20 billion in 2011. For more information about BASF's North American operations, visit http://www.basf.us .
BASF is the world's leading chemical company: The Chemical Company. Its portfolio ranges from chemicals, plastics, performance products and crop protection products to oil and gas. We combine economic success, social responsibility and environmental protection. Through science and innovation we enable our customers in almost all industries to meet the current and future needs of society. Our products and system solutions contribute to conserving resources, ensuring healthy food and nutrition and helping to improve the quality of life. We have summed up this contribution in our corporate purpose: We create chemistry for a sustainable future. BASF posted sales of about €73.5 billion in 2011 and had more than 111,000 employees as of the end of the year. Further information on BASF is available on the Internet at http://www.basf.com .