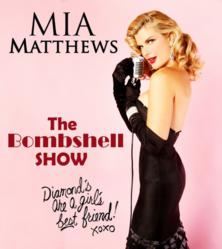 As far as I'm concerned if this Bombshell ever detonates again, I'd love to be in the wake of that explosion! – Show review by Timothy Stratton
Palm Beach, FL (PRWEB) November 29, 2012
Quite a beauty herself, Miss Matthews has paid homage to a wide variety of iconic screen goddesses from Mae West to Madonna. Further details for The Bombshell Show can be found on the website.
Theatrical Highlights:
Highlights of the evening included an eerily accurate rendition of Mae West's "Come Up And See Me Sometime", an understated and haunting version of the usually zany Betty Hutton's "I Wish I Didn't Love Him So", and a hilarious send-up of the always serious Marlene Dietrich's "Falling In Love Again". Included were several sultry, sassy and sexy numbers that were originated by legends Rita Hayworth, Lena Horne and even a celluloid Bombshell or two like Jessica Rabbit and Betty Boop rounding out this very enjoyable night.
Mia was joined several times on stage by her friends and "back up boys" Jamison Stern and Kevin B. McGlynn but the night truly belonged to Miss Matthews.
Critical Acclaim:
"As far as I'm concerned if this Bombshell ever detonates again, I'd love to be in the wake of that explosion!" – audience member, Timothy Stratton
Barry Levitt, a Broadway musical director called Matthews a "top-notch singer" - The Palm Beach Daily News
About Mia Matthews:
After many years as a theater, television and film actress in New York City, Mia is proud to call Palm Beach her home with her husband Bob Matthews. They spend their time between Palm Beach and Nantucket with their daughters, Miranda and Bianca.
Mia's New York credits include: Mizlansky/Zilinsky (with Nathan Lane) Topper the musical, and Henry IV, for the New York Shakespeare Festival at The Public Theater. Favorite regional roles include Eva Peron in Evita, Adelaide in Guys and Dolls and Reno Sweeney in Anything Goes.
For upcoming project announcements Click Here.
To see more photos and information about The Bombshell Show go to: The Bombshell Show Website