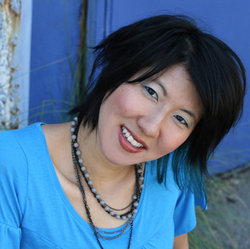 The internet is a powerful tool for the unsigned artist
Los Angeles, CA (PRWEB) August 26, 2009
A little over a year after the birth of the online fan-funded endeavor "The Sukey Rose Project," Mia Kim completes her fan-funded project by releasing the physical copy of her sophomore album "Who Is Sukey Rose?" via her official online store.
With the success of The Sukey Rose Project, Kim has witnessed the power of true fan support. More than 100 fans contributed to the album presale that launched in June 2008. Altogether, Kim's supporters helped raise more than $8,400 towards recording costs.
Produced by veteran indie-rock musician and producer Jason Martin (Starflyer 59, Cold War Kids), the new album is a mix of alternative pop-rock tunes exploring the identity of a fictional character named Sukey Rose. What makes this release different from Kim's first album is her use of new media resources that are now available to unsigned independent artists.
"I've been using MySpace, CDBaby and Tunecore for years as ways to connect to fans and distribute my music. The landscape is constantly changing, and now there are numerous online resources and tools available specifically for the unsigned musician. It's an exciting time," says Kim.
Kim represents a new wave of aspiring musicians who are unsigned, yet serious about pursuing music as a profession. These musicians are foregoing the get-signed-to-a-label route and are instead choosing to use Web 2.0 tools such as Twitter, Facebook, ReverbNation and Bandbox.
"The internet is a powerful tool for the unsigned artist," Kim says. "I can use Facebook and Twitter to build a direct relationship with fans and supporters. And now there are services like Bandbox and Paypal that allow me to sell my music directly to the fans from my own website and keep 100 percent of the sales. It's the ultimate expression of what being an independent musician in the Internet age truly means."
The Sukey Rose Project was created in June 2008 to give music fans an insider's view of what it takes to independently produce and release a successful album. Fans had the opportunity to participate in the presale fundraiser and contribute their thoughts on the making of Mia Kim's forthcoming album "Who is Sukey Rose?" The completed album was released digitally via iTunes on July 14, 2009 and physically on August 25, 2009 on her official website.
###