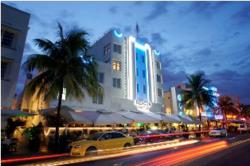 Our hotel rewards are unlike any other reward program. With the combination of American Airlines AAdvantage Miles and the addition of Stash Reward Points we feel we give our guests a greater reason to visit.
(PRWEB) October 14, 2011
The Beacon South Beach Hotel today announced it will offer 1,000 Bonus hotel reward points through Stash Rewards.
Stash Hotel Rewards is the fastest growing hotel loyalty program in the Americas. This hotel rewards program includes a new, flexible rewards currency shared exclusively by many of the country's best independent hotels. With Stash Loyalty Program, travelers can quickly earn free nights at distinctive, independent hotels without blackouts or inflexible category restrictions.
Stash Benefits:
Freedom To Choose: Break free from the compromises and restrictions of big chain programs. Stay at distinctive, independently-run hotels, each one with a story to tell.
Fast & Flexible: Earn free nights ridiculously fast with Stash Loyalty Program. Say goodbye to blackouts and other program annoyances that make your back ache.
Stay, Earn & Redeem: With Stash, travelers can earn and redeem points for free nights at some of the best independent hotels in the U.S., from landmark historic inns to boutique gems to top-rated resorts.
Currently Stash members are up for a delight as Beacon Hotel South Beach is now one of the new participating hotels in the Stash Loyalty Program. Now guests can earn Stash points for their stay at Beacon South Beach Hotel, get enough points to get a free night at any hotel in the program.
About Beacon South Beach Hotel
With its seven miles of sand and surf, unrivaled nightlife, premier shopping and exquisite cuisine, Beacon South Beach Hotel is a premier vacation destination in South Florida. This beach front Property is located on 720 Ocean Drive; the Beacon South Beach Hotel blends timeless elegance of the Art Deco era with the modern chic decor of South Beach and offers luxury accommodations, gourmet dining, deluxe spa amenities and personalized concierge services to each of our guests.
Double Your Rewards with Beacon
As a new Stash Partner, Beacon South Beach Hotel is proud to announce 1,000 Bonus Points for first time customers. Starting October 14th, 2011, every time you stay with Beacon South Beach Hotel, you can not only earn up to 2 miles per dollar spent on your American Airlines AAdvantage membership but you can also get 5 points per dollar spent on your stay with Stash Rewards at the Beacon. This double rewards benefit at the Beacon South Beach Hotel is indeed very lucrative for all those who are looking for a pleasant and rewarding experience in Miami South Beach.
Whether it is a weekend getaway or a family vacation, the Beacon South Beach Hotel is dedicated to give you more every time you stay with them. With the unique and very popular Stash Loyalty Program, Beacon intends to reward every customer for every dollar they spend, making their stay more rewarding than ever!
With Stash Loyalty Program, you can now get the best of the best experience in whole of South Beach and get rewards day after day!
For more information on special offers visit the hotel website.
###