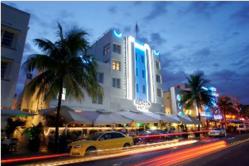 Our advanced purchase discount is a great opportunity to find exciting rates for 2013, says Christopher Regalado, Sales Manager at the Beacon Hotel
Miami Beach, FL (PRWEB) September 17, 2012
Good news for all those who are looking for great deals on a hotel stay in Miami Beach! The Beacon Hotel is now offering 25% OFF for all new reservations made for travel dates January – April 2013 – a great way to enjoy luxury without spending a lot of money on their hotel stay.
New Special: Book Early To Get 25% Discount
The Beacon South Beach Hotel announces a new special package for their new and existing guests who plan to book their stay in advance. For all bookings with travel dates between January 1– April 30, 2013, The Beacon Hotel is offering a special package price that gives 25% off on the hotel total stay. The package includes:

25% off on the full booking
Travel dates: January 1, 2013 – April 30, 2013
Full payment required
2 Night minimum stay
Includes rooftop sunset reception for two with wine and cheeses
Now guests can take advantage of the discounted pricing on their hotel stay, and enjoy complimentary wine and cheese along with an unbelievable rooftop experience. It can't get better than this!
About The Beacon Hotel
Located right on the shores of one of the sexiest beaches of the world, South Beach, the Beacon South Beach Hotel is an all time favorite destination for couples looking to get away, singles looking to party, families looking for a new adventure and business travelers hoping to relax after a long day at the office.
Guests can enjoy the splendid interiors, magnificent views and exquisite cuisine in this stylish Miami Beach Art Deco Hotel. The Beacon Hotel ensures the quintessential sense of comfort and guarantees its guests unforgettable moments of joy and fun during their stay.
Now Miami Beach visitors can capture wonderful South Beach memories at the Beacon Hotel. Known for its spectacular nightlife, fine dining, Art Deco area, trend-setting design influence and of course, the stunningly beautiful beach, the Beacon South Beach Hotel is the best destination for all domestic and international visitors in Miami.
For more information, visit: http://www.mybeaconhotel.com
###