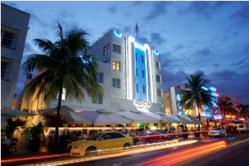 From Trip Advisor: "nice, comfortable, eclectic - and BEACH BEACH BEACH", says Don from Oregon
(PRWEB) November 22, 2011
The Beacon South Beach Hotel gives guests yet another reason to love staying there. Now guests won't wait to go on a lovely, beach vacation at The Beacon Hotel. As they say, "The Beacon South Beach Hotel - You'll Love to Come Home"
The best part about a vacation is eating well - and often. Starting Nov, 15 2011, the Beacon Hotel is offering full complimentary breakfast with every stay. So far, Beacon South Beach Hotel guests have been enjoying complimentary deluxe continental breakfast (served daily between 9 a.m. and 11 a.m.) with every night stay at the hotel. But now, the Beacon Hotel is announcing a choice of full breakfast menu for all Beacon guests.
About Beacon Hotel South Beach
Rated in the top 22 of all Miami Beach Hotels on TripAdvisor, the Beacon Hotel delivers a new travel experience to all its guests. The Beacon Hotel is constantly striving to maximize the wonderful experience and to make it the perfect beach vacation for all its guests. Complimentary Upgrades, a customized travel experience, Bonus American Airlines AAdvantage Miles, Stash Hotel Rewards and special perks are only some of the great things guests can come to expect at the Beacon Hotel.
Now travelers can expect more from their favorite hotel. Going beyond the hearty and healthy breakfast, Beacon South Beach Hotel has introduced the new Full Breakfast Menu that consists of a variety of savory and gourmet dishes that will surely satisfy the most discerning palate.
As a prestigious Beacon guest, now guests can start their day by choosing from the full breakfast menu options and enjoy a lovely morning meal that is sure to make their day even brighter!
So, what are you waiting for? Discover a true gateway to paradise while staying at the Beacon South Beach Hotel. And when you a book a room at Beacon, you get complimentary full breakfast for every night stay. It can't get better than this…
For more information, please visit the Beacon Hotel South Beach website
###