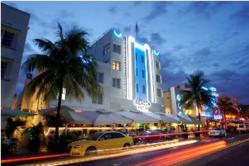 Exceptional customer service is a number one priority, while we are always looking to improve benefits and amenities for our guests, we are also working to ensure they receive outstanding service on property, said Elvis Taylor, General Manager
Miami Beach, FL (PRWEB) January 13, 2012
Guest Service Gold, a guest service training program from EI, trains employees and properties how to achieve a new standard of exceptional service based on the philosophy of emotionally engaging with guests in memorable and exceptional ways. There are three main components to Guest Service Gold: training, employee certification, and property certification. In order for the Beacon South Beach Hotel to be designated a Certified Guest Service Property, every employee was required to complete specific training and pass a comprehensive exam.
"Exceptional customer service is a number one priority at the Beacon South Beach Hotel," said Elvis Taylor, general manager of the Beacon South Beach Hotel. "While we are always looking to improve benefits and amenities for our guests, we are also working to ensure they receive outstanding service on property. EI's Guest Service Gold certification is just one more way we demonstrate our commitment to our guests."
Twenty-eight team members at the Beacon South Beach Hotel received the Certified Guest Service Professional designation at the completion of their training and the hotel was presented with a plaque denoting its achievement. The property celebrated its achievement with an award ceremony at the property that included a cake and refreshments.
To learn more about Guest Service Gold and the Certified Guest Service Property and Certified Guest Service Professional designations, visit http://www.ahlei.org/guestservicegold/, or call 800-752-4567 or 517-372-8800. Outside the U.S. and Canada, call 407-999-8100.
About the American Hotel & Lodging Educational Institute
Established in 1953 as a nonprofit educational foundation of the American Hotel & Lodging Association, the Educational Institute's mission is to continue being the preferred provider to the lodging industry, hospitality schools, and related hospitality industries by developing and providing quality resources to train, educate, and certify hospitality professionals worldwide.
About Beacon South Beach Hotel
With its seven miles of sand and surf, unrivaled nightlife, premier shopping and exquisite cuisine, Beacon South Beach Hotel is a premier vacation destination in South Florida. This beach front Property is located on 720 Ocean Drive; the Beacon South Beach Hotel blends timeless elegance of the Art Deco era with the modern chic decor of South Beach and offers luxury accommodations, gourmet dining, deluxe spa amenities and personalized concierge services to each of its guests.
###