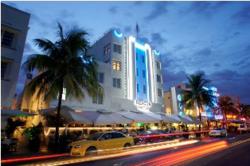 Our Exclusive Invitation promotion is a great way for guests to enjoy extra hotel perks and save, says General Manager Elvis Taylor
Miami Beach, FL (PRWEB) September 27, 2011
Now guests can not only enjoy the world's best beach views but also save on their holiday stay when they make advance hotel bookings at Beacon South Beach Hotel, Miami.
For a limited time only this Ocean Drive Hotel is offering its guests – Advance Purchase Promotion - Save 20% on all new bookings between September 15, 2011- February 29, 2012. In addition, if guests book their stay in advance, they can get earn Extra Perks when they stay between October 1, 2011 – February 29, 2012.
About The Beacon Hotel Experience...
Flaunting a fusion of cosmopolitan and Art Deco influences combined with beach front elegance and top-notch amenities for the premier beach luxury hotel experience, the Beacon Hotel Miami is a place where guests can enjoy exceptional hospitality and lodging accommodations in a convivial and comfortable setting.
Share unforgettable moments with spectacular ocean views and a truly luxurious retreat. Enjoy cozy bedrooms, awe inspiring views, exotic dining experience and high-tech business amenities that are in store for guests of the Beacon South Beach Hotel.
Why Book In Advance?
Rated in the top 20 of all Miami Beach Hotels on TripAdvisor, The Beacon South Beach Hotel delivers a new travel experience to all its guests and at very affordable prices. This is why Beacon Hotel is the #1 choice for vacationers all year round.
Advance Purchase Promotion: To make guests holiday experience more rewarding, The Beacon introduces a new Advance Purchase Promotion Special Offer for all its guests.
To avail this limited time only offer, use Promotional Code SUMM to get 20% off on your stay between Sep, 15 2011 – Feb, 29 2012.
Select the room of your choice, Deluxe, Oceanfront view and Suites with updated in-room facilities when you book online.
Avail complimentary upgrades, Bonus American Airlines AAdvantage Miles and Special perks on your advance booking at Beacon.
Exclusive Invite with Extra Perks: Besides its premium location right in the center of Ocean Drive, and beautifully remodeled rooms and lobby, the Beacon South Beach Hotel is offering you an Exclusive Invitation with a wide variety of Extra PERKS.
To avail this limited time only offer, use Promotional Code PERK to book your hotel reservations before October 15, 2011 for travel dates between October 1, 2011 - February 29, 2012.
Earn 5 American Airlines AAdvantage Miles for every $1 pre-tax dollar spent on stay.
Full Breakfast and Welcome Mojitos along with Complimentary Ocean Front Upgrade (subject to availability)
Book Early & Save 10% Plus you get 50 Facebook Credits per night for your Entertainment.
Whether it is for business or a weekend getaway, now you can make the most of your stay in Miami South Beach. Get luxury hotel stay and save up to 20% on early booking, plus you can get additional perks and bonus air miles on your stay at Beacon.
So, what are you waiting for? Book your stay at Beacon today and save $$$ while the offers last!
For more information, visit the Official Website of the Beacon Hotel South Beach.
###