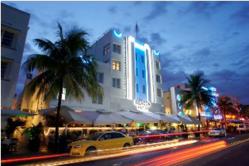 Our 15% commission incentive is a win-win for both the travel agent and the guest. Travel agents get to earn more and their guests receive 5-diamond customer service, says Chris Regalado, Revenue Manager
Miami Beach, FL (PRWEB) January 05, 2013
Partners can earn up to 15% commission on new reservations!
Great news for all travel agents in South Beach Miami, now travel agents can become a Beacon Hotel Partner and make commission on every new reservation. At the Beacon South Beach Hotel, they value their travel partners and want to help them give a pleasurable experience to their clients. Now Beacon affiliates and partners can earn higher commissions when they book their client's stay directly with the hotel.
Beacon Travel Agent Commissions
Bookings made between Jan 5th and February 28th for travel dates Jan 5th – June 30th, 2013 can earn up to 15% commission on every new reservations by calling the Beacon Hotel reservation line directly at: 786.389.5705 or 786.433.1019.
When booking rooms for clients, agents can consider the ample comforts and superb location of the Beacon Hotel in South Beach Miami. The hotel offers an unsurpassed combination of top-notch amenities and value.

Complimentary Full Breakfast
Free High Speed Wireless Internet
Earn American Airlines AAdvantage® Miles
Complimentary Beach Chairs & Beach Towels
Free Local Calls
Complimentary Business Center Access
Complimentary 24/7 Fitness Center
"Our 15% commission incentive is a win-win for both the travel agent and the guest. Travel agents get to earn more and their guests receive 5-diamond customer service", says Chris Regalado, Revenue Manager.
Let the clients soak up the style and tranquility of the Beacon South Beach Hotel where Luxury and Coziness are within reach! Have them discover a true gateway to paradise – an Art Deco Miami Beach hotel on the infamous Ocean Drive; the Beacon Hotel features luxurious accommodations, breathtaking ocean views, and easy access to world-famous beaches, attractions, restaurants, shopping malls, and nightspots.
About The Beacon Hotel
Located at the renowned Ocean Drive, the Beacon Hotel South Beach Hotel blends timeless elegance of the Art Deco era with the modern chic deco of South Beach and offers luxury accommodations, gourmet dining, deluxe spa amenities and personalized concierge services to each of our guests. The Beacon Hotel is just 10 minutes away from downtown Miami and 20 minutes away from Miami International Airport.
Guests can enjoy the splendid interiors, magnificent views and exquisite cuisine in this stylish Miami Beach hotel. The Beacon Hotel ensures the quintessential sense of comfort and guarantees unforgettable moments of joy and fun for all its guests.
For more hotel information, please visit: http://www.mybeaconhotel.com
###