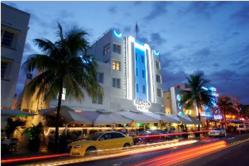 Because boating and diving go hand in hand, we saw the Miami International Boat Show as a great opportunity to expand our reach to all on-the-water enthusiasts about the exciting and accessible sport of SCUBA," said Brad Nolan, President of US Dive Shows
Miami Beach, FL (PRWEB) December 14, 2011
The National Marine Manufacturers Association is organizing the 5-Day Progressive Miami International Boat Show between February 16 – 20, 2012.
This time, the 71st Annual Miami International Boat Show partners up with US Dive Shows to create the 2012 Dive and Travel Harbor that promises to provide visitors a unique opportunity to get their "feet wet" in all-things diving and a one-stop shopping destination for every type of diving and travel enthusiast. Stay at the Beacon South Beach Hotel and enjoy extra perks for booking today.
"Because boating and diving go hand in hand, US Dive Shows saw the Miami International Boat Show, one of the most extensive boat shows in the world, as a great opportunity to expand our reach and further educate all on-the-water enthusiasts about the exciting and accessible sport of SCUBA," said Brad Nolan, the President of US Dive Shows.
At this Boat Show, runabouts, sportboats, fishing boats, cruisers, personal watercraft, jet boats, inflatables, luxury yachts and high-performance boats—everything from 15 to 85 feet is ready to board and buy. Miami International Boat Show 2012 offers endless on-the-water fun including on-the-water docking and maneuvering aboard larger vessels for an exclusive Joystick Docking Experience.
With the new Discover Boating Resource Center, a boating education experience offering free boat rides, training courses, and daily seminars, this year's show is truly an ultimate destination to discover boating and diving like never before.
What this really means is, come February, shoppers can take advantage of competitive prices and exclusive Miami International Boat Show specials while getting a first look at the newest boat models.
Learn how to make the most of an outdoor living space, get an exclusive sneak peek at the newest boats, cutting-edge technologies and must-have accessories and find a variety of boats that can be financed at as low as $250 or less per month at the Water Center.
What's more? Get great tips on how to "green" a yacht and also meet the greatest sailors in the world at Miami International Boat Show 2012 held in Miami South Beach.
If travelers do not want to miss the fun, they should make their travel arrangements before it is too late. Guests of the Miami Boat Show should make the most of the promotional offers on accommodations at the best hotels in Miami.
Beacon South Beach Hotel in South Beach Miami is offering a number of extra perks for both domestic and international guests.
Book hotel reservations before January 15, 2012 and take advantage of:
5x American Airlines AAdvantage Miles
Complimentary Ocean Front Upgrades
Full Breakfast
Welcome Mojitos, plus a
Welcome Gift.
Be sure to use Promo Code: PERK when making reservations online.
For more information or to make reservations, visit the Beacon Hotel Website
About Beacon Hotel South Beach
Beach loving, festive, sophisticated, successful, and trendy are the five words that best describe the Beacon. It offers the ideal combination of relaxation, pampering, enjoyment, and five diamond guest service. At 720 Ocean Drive, the Beacon Hotel is wedged between seven-miles of beach relaxation to the east and the trendy shopping of Collins Avenue and the nightlife of Washington Avenue to the west.
# # #