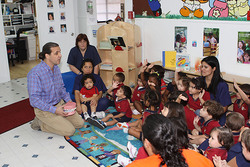 In my practice, I have found young children to be in desperate need of good oral hygiene education, and that is one of the primary objectives of Head Start.
Miami, FL (PRWEB) November 18, 2010
Miami dentist Ted Herrmann got a head start this holiday season, reminding the community of the age-old adage 'tis better to give than to receive. The South Miami dental professional and Assure a Smile Family Dentistry founder teamed with Head Start to provide dental supplies and promote health awareness among the children of the South Florida community.
Head Start is a leading organization when it comes to making a lasting and positive impact on the lives of young children in the Sunshine State. With enrollment exceeding 40,000, Head Start boasts a vast network of kids, mentors, and educators who aim to make a difference in the lives of young people. Their mission, as a national school readiness program, is to provide comprehensive education, health, nutrition, and parent involvement services to children of low-income families.
"In my personal opinion," reported Dr. Herrmann, "Head Start was a perfect match for Assure a Smile and me because our goals are so similarly aligned. In my practice, I have found young children to be in desperate need of good oral hygiene education, and that is one of the primary objectives of Head Start."
In that light, Assure a Smile and Head Start made a sensible pairing: each organization helped the other to reach their goals within the community, spreading awareness for overall health and well being. While Head Start served as a medium through which Dr. Herrmann and Assure a Smile could provide dental education to youngsters, Assure a Smile served as an enabler for Head Start, supplying 1,000 toothbrushes, 1,000 tubes of toothpaste, and an engaging educational course in proactive oral hygiene.
"I have two young children of my own," continued Dr. Herrmann. "I know how important it is to encourage children to develop good habits at an early age."
Dr. Herrmann and Assure a Smile have been practicing dentistry in the Miami community for over 20 years. Their mission: to provide superior quality of service with an emphasis on patient education and overall health awareness. Unlike many traditional practices, Assure a Smile is built on the notion that dental education is of primary importance. Informed patients are proactive patients, and proactive patients are able to keep their teeth and oral health for life.
The commitment to patient education is overwhelmingly clear at the Assure a Smile Miami dentist office. First time patients, for example, are eased into the warm environment with a tour of the office, complete with introductions to each Assure a Smile team member. When it comes to dental work, much time is spent educating the patient about their unique conditions, the factors contributing to them, and why a particular procedure may or may not be employed to correct or prevent problems. No matter what form the education takes, at Assure a Smile the goal is constant: identify the source of the problem, and give patients the knowledge to overcome it.
The drive to create a Miami dental practice built on patient education came from experience. According to Dr. Herrmann, the patients he has treated since founding Assure a Smile have not been well informed with regard to general dentistry procedures and maintaining good oral hygiene. Dr. Herrmann believes that oral health is intricately related to the overall health of the patient, making his experience with ill-informed individuals particularly alarming. The Assure a Smile philosophy has been molded over the years to address this problem, equipping patients with the knowledge necessary to form good oral hygiene habits, make informed dietary choices, and lead overall healthier lives.
The patient-focused core at Assure a Smile has led Dr. Herrmann to coin the term 'people dentistry' to best describe the practice. People dentists, fittingly enough, are no strangers to philanthropic involvement. Dr. Herrmann and Assure a Smile have a long history of community participation with Big Brothers Big Sisters, Dress For Success, and other philanthropic groups that take an active role in the lives of young children. Assure a Smile educates both children and adults about the benefits of minimally invasive dental procedures. From advanced cavity detection to Invisalign clear braces, minimally invasive procedures are becoming fundamental in promoting long-term oral health.
Providing information that is accessible to the community is also priority for the professionals at Assure a Smile. The Miami dental practice consistently offers promotions that make cleanings and general procedures both affordable and enticing. As a Miami Invisalign provider, Assure a Smile is offering nearly 20% off the popular clear braces system. New patients will find value in the Patient Cleaning and Consultation Special; this comprehensive exam includes a full TMJ scan, dental cleaning, x-rays, digital photographs, and professional consultation session. More information on affordable Invisalign clear braces, cleaning specials, and other non-invasive dental procedures may be found at http://www. Assureasmile.com.
# # #