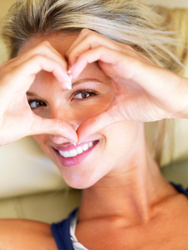 A growing body of research strongly indicates that smiling not only spreads feelings of happiness, but also increases overall wellness.
Miami, FL (PRWEB) February 8, 2011
Miami dentist Ted Herrmann and the dental professionals at Assure a Smile are giving you one more reason to smile this Valentine's Day. After a wildly successful Invisalign special last fall, Assure a Smile Miami Dentistry is at it again. This time around, the practice unveils their newest promotion: the Valentine's Invisalign Special. From February 1st to the 28th, new Invisalign patients will receive a $500 credit towards Invisalign clear braces as well as a $500 credit towards a Miami teeth whitening procedure.
Helping patients to achieve overall wellness is the primary mission at this Miami dentistry practice. An integral part of wellness, according to practice founder Dr. Herrmann, is frequently flashing a genuine smile. "Smiling is undoubtedly healthy, both for you and those around you," Dr. Herrmann explains. "A growing body of research strongly indicates that smiling not only spreads feelings of happiness, but also increases overall wellness. It's a domino effect, really. Smiling has long been associated with low levels of stress, and lower stress levels lead to lower blood pressure, improved digestion, regular blood sugar levels, and reduced anxiety."
Unfortunately, an estimated 76% of Americans are embarrassed to smile, though just as many admit to knowing that smiles are linked with well being. This is alarming to the Assure a Smile practice, implying that only a mere quarter of Americans receive the health benefits of smiling regularly. "Assure a Smile is committed to helping our patients become as healthy as possible," Dr. Herrmann explains. "A large part of that is helping them create a healthy, confident smile that they will be able to enjoy for the rest of their lives."
The Miami Invisalign promotion may offer new patients a discount, but service is nothing short of extraordinary. The professionals at Assure a Smile offer unparalleled attention to detail and expertise from start to finish. New Invisalign patients begin their treatment plan with a one-on-one consultation to answer questions, create treatment goals, and alleviate themselves of any concerns they may have with respect straightening and whitening procedures. After a course of treatment is determined, Assure a Smile utilizes Invisalign 3-D imaging technology to create a comprehensive tooth structure map. This map is used to design custom made aligners that resemble slightly straighter versions of the patient's actual teeth. In wearing the aligners, the patient will experience an incremental realignment of their teeth over time. Patients receive a new set of aligners about every 2 weeks, depending on individual needs, until teeth are fully shifted into desired alignment.
Invisalign clear braces offer many advantages over traditional metal braces. The new age braces system is removable, giving patients the convenience to eat, brush, and floss as normal. This is particularly important in terms of oral health. The brackets and wires of traditional metal braces are difficult to keep clean, trapping food and bacteria in the teeth and gums for prolonged periods of time. In fact, about 50% of patients using metal braces experience significant plaque accumulation, tooth enamel demineralization, and sometimes even gum disease. Invisalign patients also enjoy the smooth plastic construction of the aligners. This material allows for everyday wearing without the gum and inner cheek agitation commonly induced by the brackets and wiring of traditional braces. What patients love most of all, however, is that Invisalign aligners are clear. Patients can feel confident through each step of their treatment plan knowing that Invisalign aligners are nearly invisible to passersby.
Visit Assure a Smile this February and give the gift of a beautiful smile to yourself or a loved one. With $500 savings on your Invisalign treatment plan and an additional $500 credit towards a Zoom teeth whitening procedure, there has never been a better time to create the picture perfect smile of your dreams.
Assure a Smile Miami Dentistry
Office: 305-274-0047
9000 SW 87th Court, Suite 205
Miami, FL 33176
###