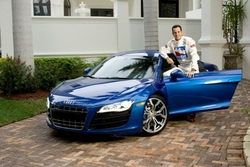 It is a huge pleasure to become the official spokesperson for Miami Drive
Miami, FL (Vocus) June 11, 2010
Helio Castroneves, winner of ABC's hit television series Dancing With the Stars and three-time champion of the Indianapolis 500, has been named official spokesperson for Miami Drive, South Florida's first private car club and concierge service. The Brazilian racing superstar, whose trademark is his victory celebration of climbing the track-side fence, will now be the face of the premier car club, while also enjoying the advantages and benefits of the club himself. In his new role, Helio will attend several Miami Drive events and will also lead the club's track program, a program that allows members to race its vehicles in world-famous race tracks such as the Sebring, Daytona and Homestead Speedway.
"We are thrilled and humbled to have Helio Castroneves join our Miami Drive team," said Jose Luis Bueno, CEO of Miami Drive. "Helio is an avid motor sportsman and the combination of his powerful presence on the track, along with his charismatic personality makes him an outstanding spokesperson for the club."
Born and raised in Sao Paulo, Brazil, the racing superstar began his auspicious career at the youthful age of 12, racing go-carts in his homeland. Since signing with Penske Racing in 2000, Helio has won the Indianapolis 500 in 2001, 2002 and 2009, one of only nine drivers to date to have won the race at least three times, the fifth driver to win consecutively and the first to do so since Al Unser won in 1970 and 1971. By the age of 27, Helio held new records in Indianapolis 500 history, being the youngest driver to win the race two times and the only driver in history to have won in his first two attempts.
"It is a huge pleasure to become the official spokesperson for Miami Drive," said Helio. "I admire the club's services, not only for its innovation, but also because it provides me with a convenient solution to my driving needs while in South Florida."
About Miami Drive:
With a growing number of International investors and business professionals buying homes in Miami, Miami Drive is sure to be a success. Its membership offers its clients a convenient way to explore Miami with no hassle and in style. The concept is simple, after an application approval, members pay an annual fee based on which level they prefer; Club Silver, Gold, Platinum and Corporate. Members are then provided a certain amount of driving time based on their membership level and choose from Miami Drive's extensive fleet of high end and exotic vehicles. The company's extensive collection of high performance vehicles include a Red Ferrari 430, a Black Lamborghini Gallardo Spyder, a Blue Audi R8 V10, a Silver Porsche GT-3, a Black Porsche Cayenne GTS Turbo, and a Black Range Rover HSE Sport to name a few.
MEDIA CONTACT:
Michelle Fonticiella
Levy Communications
305.592.5389
michellef(at)levyad(dot)com
###