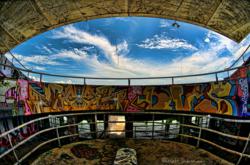 Miami, Florida (PRWEB) May 26, 2013
Into Action Treatment Center places a strong emphasis on having fun in recovery from drug and alcohol addiction. They take their clients on at least 1 trip per weekend and a lot of these focus on the arts, and they are always very interesting. The trip they took this weekend might be the most adventurous yet. They visited the Miami Marine Stadium, which was once a full fledged boat racing stadium, and also played host to many concerts, including Queen.
The 6,566 seat stadium was built in 1963 on land donated for "water sports," and designed by architect Hilario Candela, then-a 28-year-old recent immigrant from Cuba. It was dedicated as the Ralph Munroe Marine Stadium when it opened. Their purpose is the restoration and return to operation of Miami Marine Stadium. It is the goal of Friends of Miami Marine Stadium to work with the City and community at large to accomplish this purpose and have it operated in the public interest and return it to its once found glory during the 1960s and 1970s. To read more about Miami Marine Stadium, visit their website at http://www.marinestadium.org/
Miami Marine Stadium is now vacant and includes incredible graffiti art from some of the most famous artists in Miami. Into Action Treatment Center visited the stadium and is now a friend of Miami Marine Stadium. They support the renovation of the stadium and hope that it will return to it's earlier prominence as an event center.
Into Action Treatment is a small 24 bed coed Florida drug rehab center located in Boynton Beach. Into Action is a very unique center, which focuses on long term recovery for addicts and alcoholics. Most treatment centers in the industry are 28 days, however Into Action is a minimum of 45 days, while most clients who complete the program end up staying over 90 days, even if their insurance money has run out. For more information on Into Action Drug Treatment and how they can help those affected with addiction, visit their website at http://www.intoactiontreatment.com, or call their 24 hour hotline at 1-855-933-6732 for free addiction advice and treatment options.