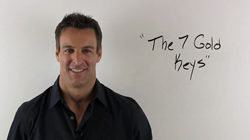 Not gaining knowledge of the '7 Gold Keys' could be hazardous to your business's health
MIAMI, FL (PRWEB) June 10, 2013
Dedicated to gathering Miami entrepreneurs to share ideas with other professionals who are achieving breakthroughs in their business, Renegade South Florida Entrepreneurs (RSFE) marketing group announced the topic of its next monthly event: "The '7 Gold Keys' the most prolific businesses in the world all have in place". In partnership with the Miami Chapter of Glazer-Kennedy Insider's Circle (GKIC), top direct response marketing group in the world, Chapter Director Andrew Cass will host the event on June 20, 2013, from 3:00 to 6:00 p.m., in Hollywood, Fla.
Cass says the '7 Gold Keys' are the reasons why those most successful companies in the world constantly stay ahead of change, and consistently outperform their competitors. In sharing more details about the event, Andrew says he will also elaborate on the 5 main characteristics common to those prolific businesses, which fuel the '7 Gold Keys'.
He feels this is a strong topic, ideal for the 6-month mark of 2013, as the information to be shared can be the ticket to evolve and get back on track for some businesses, or even the critical step that will take others to the next level. Andrew then advises, "This absolutely has the power to change people's lives, but is only possible for those who are dead serious about getting major results immediately."
As a sneak peek, Cass suggests that one of the soon-to-be-revealed 7 keys is that those successful companies have realized that the equity of their business is in the relationship they have with their customers, not necessarily in the brand. That substantiates the findings of the IBM 2010 CEO study, which observed that getting closer to customers has become the overwhelming top priority for CEOs, and that getting closer is achieved through the relationship-building process.
An article recently published on Harvard Business Review, entitled 'Three Myths about What Customers Want', stated that contrary to common belief, interactions do not build relationships; shared values do. According to the authors, "A shared value is a belief that both the brand and consumer have about a brand's higher purpose or broad philosophy." The story proposes that a company is only successful in its attempts to build relationships with customers if they are attentive to their main interests, and able to connect with them at that level.
Of the consumers surveyed to base that study, 64 percent of those who said they have a brand relationship, cited shared values as the primary reason. Meanwhile, only 13 percent cited frequent interactions with the brand as a reason for having a relationship.
Cass guarantees that the other 6 gold keys will also bring irreplaceable value for entrepreneurs in the Miami area attending the next RSFE event. He also reveals that a workshop will be held, to help businesses test how they measure up with the '7 Gold Keys' and the 5 common characteristics of those most prolific businesses.
The following is a video of Andrew Cass introducing the topic himself, and also offering an opportunity to register: http://nobsmiami.com/event/. He warns, "Not gaining knowledge of the '7 Gold Keys' could be hazardous to your business's health."
First-time guests are welcome to join, free of charge, and encouraged to arrive at 2:00 p.m. for a personalized orientation. They can receive up to $1,000 in free gifts from the number one Direct Response Marketing group in the world [GKIC]. More information about RSFE can also be found at http://www.nobsmiami.com.
About Renegade South Florida Entrepreneurs / GKIC Miami Chapter
RSFE is in partnership with GKIC, the world's leading direct response marketing organization, and also with InfusionSoft, the top all-in-one sales and marketing software built for small businesses.
The RSFE events are where South Florida's brightest entrepreneurs gather to discuss ideas and help each other achieve breakthroughs in their businesses.
Host and Chapter Director Andrew J. Cass is co-author with marketing guru Dan Kennedy in The Ultimate Success Secret: South Florida Edition.
Andrew is also a Direct Sales and Marketing Strategist, 'Dan Kennedy Certified' Business Advisor, speaker, and owns his own Mobile Marketing business.
Additional information is available at http://nobsmiami.com.