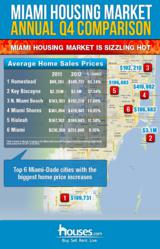 Top 30 areas comprising the Miami housing market saw a 17% increase in single-family home transactions.
Miami, Florida (PRWEB) February 22, 2013
The housing market in Miami and its surrounding areas continued to improve, according to statistics released today by Houses.com. Total transactions in the top 30 areas comprising the Miami housing market increased 17.29% to 6,017 in the 4th quarter of 2012, compared to 5,130 from the same quarter in 2011. The average sales price increased in 23 of the 30 markets in Miami-Dade bringing the overall sale price to roughly $489,000 – a near 10% year-over-year increase in Q4.
"We're seeing strong local demand, as well as influx from investor groups and foreign buyers," stated Richard Swerdlow, CEO of Houses.com. "There's an underlying feeling that America is on sale, and Miami is one of the most sought-after markets in the U.S. because of our great climate and cosmopolitan city. Plus, America has always been considered one of the safest real estate investments in the world, and that draws worldwide interest," Swerdlow concluded.
Single-family home transaction volumes for the 4th quarter 2012 were strongest in Miami, followed by Hialeah, Homestead and Miami Gardens. Year-over-year prices increased for those 4 markets as well.
The signs of an improved South Florida housing market was evident across the board, however. Buyers have been snapping up high-end properties as well in areas like Key Biscayne, Miami Beach, Pinecrest and Coral Gables. The total number of transactions was up significantly in those areas, as was the average sales price. Total home sales volume for the 4th quarter 2012 in the Miami area reached the $1.856 billion mark, up 44% from the year earlier quarter of $1.369 billion.
Average prices in 6 Miami-Dade areas specifically, saw very high increases when compared to the end of last year. As shown in the Miami housing market infographic, the 6 areas include: Hialeah, Homestead, North Miami Beach, Miami Shores, Key Biscayne and Miami. Home prices in Homestead nearly doubled going from an average sales price of $99,261 in Q4 2011 all the way to $189,731 in Q4 2012. Key Biscayne, a luxury home market, saw close to a $1 million increase during the same time period. Properties on the Key are going for $3.1 million on average. The remaining 4 cities highlighted in the infographic aren't far behind, with sales price increases ranging from 9 to 18% annually. To
The improvement across almost all market segments suggests that the Miami market has absorbed a lot of the distressed properties, and the window of opportunity to find a "super sale" may be coming to an end. Florida was one of the hardest hit markets in the U.S. real estate decline that started in 2007. This continues a trend found in many other markets across the United States. Desirable warmer weather markets like Florida, California, Texas and Arizona have all seen a rebounding housing market, with many homes receiving multiple offers and a subsequent increase in prices. This frenzied environment has been freezing out many first-time homebuyers, who have to compete against all cash or large down payment offers.
Florida, especially South Florida, benefits from a mix of both local and international buyers. While international buyers come from all over the globe, Canada, China, Mexico, India and the United Kingdom account for 55% of all transactions in the U.S., according to the National Association of Realtors 2012 Report on International Home Buying Activity, released in June of 2012. Florida is one of four states that comprise 51% of all international transactions in the U.S., according to the same N.A.R. Report. The other states are Arizona, California and Texas.
Construction starts in Miami-Dade County posted strong gains in 2012, after a deep six-year slide. The construction sector is expected to finally start adding jobs in 2013 after 62 consecutive months of losses, according to the Miami Herald. The lack of new construction has helped the resale market improve, as inventory levels are reduced.
For more information about the Miami housing market, visit: http://www.houses.com/MarketData or to find houses for sale in Miami visit: http://miami.houses.com.
About eReal Estate Holdings LLC
eReal Estate Holdings LLC owns and / or operates the category-defining portals Condo.com, Houses.com, Property.com and Location.com. These real estate portals are the world's largest online marketplaces for real estate with more than 30 million properties for sale, rent and vacation in the United States and 70-plus countries around the world. The sites receive more than 1.5 million visitors per month, and cost-effectively deliver exposure and qualified leads to builders, real estate professionals and homeowners. The privately held eReal Estate Holdings LLC is headquartered in Miami, Florida.