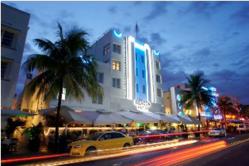 "And now, guests who stay with us for at least three nights can enjoy an even more deluxe, carefree and authentic South Beach experience – one that they'll fondly remember for years to come!", says Chris Regalado, Revenue Manager
Miami Beach, FL (PRWEB) December 11, 2012
The Beacon Hotel, an upscale boutique art deco-inspired hotel nestled in the heart of Miami Beach, and located directly across from the clear blue waters of the Atlantic, has launched a new CEO package that provides discerning guests with an ideal blend of luxurious amenities and rewarding extras.
Designed for guests who stay at least three nights or longer, the Beacon Hotel's new CEO package features:

Beautiful accommodations in the hotel's charming, sophisticated and well-appointed guest rooms
Complimentary high-speed in-room Wi-Fi to help guests stay productive and connected
VIP exclusive round-trip transfer service to and from Miami International Airport (MIA)
VIP exclusive round-trip transfer service to and from Sun Life Stadium for the upcoming BCS Orange Bowl or the BCS National Championship Game, Miami Dolphin's games, or to and from American Airlines Arena for Miami Heat games
5,000 bonus Stash Hotel Rewards points and 5,000 American Airlines AAdvantage Miles (per 3-night stay)
Early check-in (when available)
Complimentary late 1pm checkout
Complimentary hot breakfast in the hotel's renowned "The Place" restaurant
Complimentary beach chairs & beach towels
"The Beacon Hotel is the perfect South Beach retreat destination for couples, friends, honeymooners, business travelers, those embarking on or returning from spectacular Miami cruises, and other guests who want to enjoy 1930's art deco flare with ultra modern luxury and sophistication," commented Chris Regalado, the hotel's Revenue Manager. "And now, guests who stay with us for at least three nights can enjoy an even more deluxe, carefree and authentic South Beach experience – one that they'll fondly remember for years to come!"
Guests can learn more about the Beacon Hotel's new CEO package, and book their accommodations by visiting http://www.mybeaconhotel.com/miami-beach-hotel-packages/.
For more information or media inquiries, contact Christopher Regalado, Revenue
Manager, at chris(at)beaconsouthbeach(dot)com or 305.674.8200.
About the Beacon Hotel
Renowned among chic and stylish Miami beach hotels, and located in the heart of South Beach, the Beacon Hotel is a Boutique Art Deco Hotel just steps away from all of the best entertainment that South Beach has to offer: Sun, Sand and Sea. With the clear blue waters of the Atlantic directly across its front doors, the Beacon Hotel offers the perfect ambiance for a breathtaking beach vacation, featuring world-class amenities, an exquisite restaurant and tantalizing nightlife.
Guests enjoy an extraordinary gastronomic experience with live music entertainment that will elevate their spirits with the melodies that fill the air. With an array of beach side water sports, state-of-the-art fitness center and highly advanced business center, Beacon Hotel is a full-service boutique South
Beach Hotel.
Learn more at http://www.mybeaconhotel.com