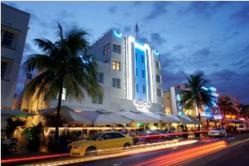 "March is one of the best times of year to experience South Beach," commented Chris Regalado, the hotel's Sales and Revenue Manager.
Miami Beach, FL (PRWEB) February 12, 2013
Visitors on their way to Miami's South Beach for Spring Break, or who plan on attending world famous events such as the Winter Music Conference on March 15-24, or the Ultra Music Festival on March 15, 16, 17 and 22, 23, 24, can now save 15% on their stay at South Beach's upscale and stylish boutique Beacon Hotel by "liking" their Facebook page at https://www.facebook.com/beaconsouthbeach.
Alternatively, guests who plan on enjoying a Miami cruise during their South Beach sojourn can save 10% on their accommodations and receive a complimentary drop off at the Port of Miami when they enter promo code SHIP. And guests who plan on longer stays of at least five nights or longer from April – November can save 25% when they enter promo code 5N25.
The Beacon Hotel is one of the area's most popular hotels, and is ideally located across from the Atlantic Ocean and steps away from the dynamic heartbeat of all that South Beach has to offer. Recently renovated with a unique art deco flair that blends old world charm with new world sophistication, guests are treated to a luxurious, upscale experience that is designed to impress. When not relaxing in their well-appointed rooms, guests can enjoy gourmet fare in some of South Beach's renowned restaurants, or unwind with a cocktail in the bar. The hotel also features complimentary wi-fi, continental breakfast, beach chairs and beach towels, as well as concierge services and more.
"March is one of the best times of year to experience South Beach," commented Chris Regalado, the hotel's Sales and Revenue Manager. "There's so much to do, see and enjoy, and there are people coming in from across the country and around the world because of Spring Break, the Winter Music Conference, the Ultra Music Festival and more. And now with our great special offers, we've made it even more rewarding to come to South Beach, and enjoy all that Beacon Hotel has to offer!"
For more information or media inquiries, contact Christopher Regalado, Director of Sales, Marketing and Revenue Manager, at chris(at)beaconsouthbeach(dot)com or 305.674.8200.
About the Beacon Hotel
Renowned among chic and stylish Miami beach hotels, and located in the heart of South Beach, the Beacon Hotel is a Boutique Art Deco Hotel just steps away from all of the best entertainment that South Beach has to offer: Sun, Sand and Sea. With the clear blue waters of the Atlantic directly across its front doors, the Beacon Hotel offers the perfect ambiance for a breathtaking beach vacation, featuring world-class amenities, an exquisite restaurant and tantalizing nightlife. Guests enjoy an extraordinary gastronomic experience with live music entertainment that will elevate their spirits with the melodies that fill the air. With an array of beach side water sports, state-of-the-art fitness center and highly advanced business center, the Beacon Hotel is a full-service boutique South Beach Hotel.
Learn more at http://www.mybeaconhotel.com.
# # #