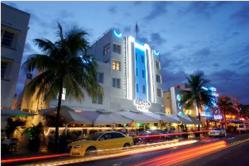 We like to offer different types of special offers, this way we are able to give everyone a little something extra for staying at our Miami Beach Hotel, says Christopher Regalado, Sales Manager
Miami Beach, FL (PRWEB) August 01, 2012
The Beacon South Beach hotel is now offering their Free Night Hotel special offer to its guests – Stay for 4 Nights and guests can enjoy their 5th Night free.
There aren't many cooler summer vacation spots that can compare to Miami. Whether visitors are looking for a calm, quiet, relaxing time basking on a tranquil beach in Miami's almost endless sunshine, or looking for a beach that offers a more Latin America, "Rio like" setting, surrounded by trim and fit bodies wearing little to hide their well earned beauty, South Beach Miami seems to be the best fit for one and all.
No doubt, South Beach makes a fun vacation destination for travelers of all dispositions. Every summer, fashion models, rock stars, actors, filmmakers and tourists from all over the world come here to enjoy the sun, the sand and the great weather of South Beach Miami.
This year, The Beacon South Beach Hotel tops all the fun and excitement with great summer vacation packages for all the international as well as domestic tourists in Miami South Beach. Guests planning to stay 5 nights this summer (The offer is valid for eligible travel dates between August 1, 2012 to November 30, 2012) can enjoy their fifth night at the luxurious Beacon Hotel absolutely free.
For guests staying less than five nights, the Beacon Hotel is also offering their: "Stay Longer, Save More" promotion which grants guests different levels of discounts depending on their length of stay. For more information on the "Stay Longer, Save More" promotion be sure to check out their website.
The promotional package includes:
5th Night Free on min. 4 Nights stay at The Beacon South Beach Hotel
Complimentary Hot Breakfast for two (a daily value of $20)
Use promotional code: 5NGT
About the Beacon Hotel South Beach
Located at the renowned Ocean Drive, The Beacon South Beach Hotel is a luxury art deco hotel that offers deluxe room accommodations, ocean view accommodations, gourmet dining, deluxe spa amenities and personalized concierge services to its clients all year round. With its special Summer Hotel Package, it is definitely striving to be the hotspot for all International tourists headed to South Beach Miami this summer.
So, if visitors are looking for a great summer vacation along the shores of South Beach Miami, they should book the Beacon Hotel's Summer Package.
Use offer code: 5NGT while making your reservation's online at the Beacon South Beach Hotel