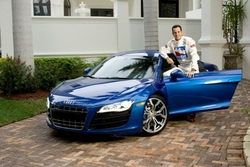 Miami Drive is an opportunity for second home owners to have immediate access to a luxury car of choice while spending the summer, winter, or any time of year in Miami
Miami (Vocus) June 4, 2010
Imagine arriving to a social event in a red Ferrari 430, attending a corporate dinner in a silver Porsche GT-3 or taking the family out in a black Range Rover HSE Sport. If only we could all have a different exotic vehicle for each occasion, dreams could be fulfilled. Well there is no need to wait any longer. Miami Drive, a Miami-based exotic car club is providing just that.
Miami Drive is an exotic car club and concierge service based in South Florida. The concept is simple, after an application approval, members pay an annual fee based on which level they prefer; Club, Silver, Gold, Platinum and Corporate. Members are then provided a certain amount of driving time based on their membership level and choose from Miami Drive's extensive fleet of high end and exotic vehicles. The company's extensive collection of high performance vehicles include a red Ferrari 430, a black Lamborghini Gallardo Spyder, a blue Audi R8 V10, a silver Porsche GT-3, a black Porsche Cayenne GTS Turbo, and a black Range Rover HSE Sport just to name a few. The company has plans to grow its collection during 2010 to include another Ferarri, the new California, two Bentleys, an Aston Martin, a Maserati and another Lamborghini.
The ultimate market for Miami Drive is the second home owners who spend 40 days a year in South Florida. The membership offers a convenient way to drive in style without worrying about maintenance and annual leases while they are away. Membership perks also include a membership to Nikki Beach, 24/7 concierge services and a chance to race with Indianapolis Driver, Helio Castroneves.
"Miami Drive is an opportunity for second home owners to have immediate access to a luxury car of choice while spending the summer, winter, or any time of year in Miami," explains Jose Luis Bueno, CEO of Miami Drive. "Our long term goal is to increase our fleet and expand into markets around the US". Currently Miami Drive has an affiliated partner in Spain with vehicles and offices in Barcelona, Madrid and Ibiza. Memberships are transatlantic and can be used while on your summer vacations abroad.
Helio Castroneves, winner of Season five of Dancing with the Stars and three-time champion of the Indianapolis 500, is a member of Miami Drive. He also serves as the spokesperson for the organization and will be present at several events throughout the year. "I immediately saw the advantage of a membership with Miami Drive. Always traveling, I struggle with my car's maintenance and depreciation. Miami Drive provides me with a solution to my driving needs while in South Florida," explains Helio.
Another advantage of being a Miami Drive member is the club's track program. This allows members to race Miami Drive vehicles in tracks such as the Sebring, Daytona and Homestead Speedway. With a little help from
Helios Castroneves, members will get to experience the exhilaration of driving at over 150 MPH.
For more information on Miami Drive please visit the Web site at http://www.miamidriveclub.com. You can follow us on Twitter @miamidrive for the latest specials and events or become a fan on Facebook.
MEDIA CONTACT:
Michelle Fonticiella
Levy Communications
305.592.5389 X 108 O
305.592.9443 F
###