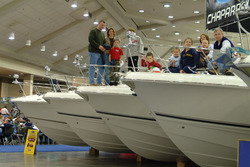 Miami, FL (PRWEB) December 3, 2008
So you're thinking of buying a boat to enjoy next spring and summer…which one are you going to get? Don't know? Well, consider yourself blessed by the water gods - the National Marine Manufacturers Association is presenting the Miami International Boat Show and Strictly Sail Miami coming up in February.
The events take place over five days, February 12th through February 16th, allowing visitors to plan ahead and divide their time between viewing the newest in luxury yachts, powerboats, sailboats and fishing boats - with vessels ranging from 15' to 85' in size. There will even be experienced sea captains available to assist in the purchasing decisions, while making sure that everyone looks into vessels that are appropriate for their level of experience on the sea.
For those that already enjoy the luxury of owning a boat, also on display will be boating accessories, equipment, services and apparel…unless of course, you're simply shopping for an upgrade. There will also be outdoor exhibit areas where demo runs will be held, and shops, restaurants and cafes will be catering to visitors with exotic foods to snack on and cocktails to sip while exploring the miles and miles of aquatic and dock area covered by the vessels on display.
Speaking of luxury, About-MiamiHotels.com lists the best deals in Miami hotels, as well as 4- and 5-star luxury hotels near the Miami Beach Convention Center. A sample of these hotels include:
The Shore Club South Beach
Loews Miami Beach
The Tides
Hotel Victor
The Standard Miami
The area surrounding the Sea Isle Marina & Yachting Center and Miamarina at Bayside is also home to fine establishments, including:
The Ritz-Carlton, Key Biscayne
The Grove Isle Hotel & Spa
The Conrad Miami
JW Marriott Hotel Miami
Mayfair Hotel & Spa
Hotel reservations should be made early. The 2008 show had over 2200 exhibitors and over 130,000 visitors from all over the country and the globe. And if you happen to close on a boat purchase, or used your own boat as transportation to the shows, The Standard Miami offers complimentary boat docking privileges for their guests and the Grove Isle Hotel & Spa works with the Grove Isle Marina to assist guests in reserving a spot for the duration of their stay.
By the way guys, if during all of the boating excitement you forgot that Valentine's Day is on February 14th, taking advantage of the discounted hotel deals has the potential to earn you a few points. Most hotels offer extravagant spa treatments sure to make any major boat purchase acceptable by the Mrs. Just make sure to have flowers, strawberries and champagne waiting for her when she returns to the room…or better yet, name the boat after her. She'll be impressed that you planned so far in advance.
Key info about the show: open 10am-6pm Thursday & Monday and until 8pm Friday thru Sunday. $30 entry fee on Thursday; other days are $16 for adults, $6 for kids 13 - 15 years old with kids under 12 entering free. 2-day passes are available for $30. $10 daily park & ride service from America Airlines Arena and Bicentennial Park. For further information, visit MiamiBoatShow.com.
Negotiations are expected to be fierce this year, as boat sales have also been hurt by the recent state of the economy and roller coaster fuel prices. Vendors are likely to work extra hard to make their sales quotas. If your credit is under control and you can afford a new toy, it is the perfect time to buy a boat.
About the company: AboutAnywhere.com operates the largest network of destination specialist Web sites in the world.
###