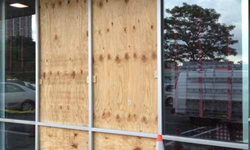 The reality, especially at night or on weekends, is that customers go first to the Web, whether on their smart phones, tablets, or computer
Miami, FL (PRWEB) November 08, 2015
Express Glass and Board Up, one of Miami's top commercial and residential glass replacement and repair services, is proud to announce major updates to its Miami informational glass repair page. In response to customer inquiries, especially with respect to emergency or 24 hour glass repair services, the company has updated the informational page with more detailed content on its service offerings for all types of replacements and repairs.
"The reality, especially at night or on weekends, is that customers go first to the Web, whether on their smart phones, tablets, or computers," explained Yaniet Santos, general manager of Express Glass. "Yet, based on customer inquiries, they are often confused as to what services we offer and would like to know that first. Therefore, we are updating all of our city-specific landing pages during October."
To view the Miami page, which is the first to be updated, please visit http://www.expressglassfl.com/miami-glass-window-repair/. In addition, users are encouraged to call the company directly at 305-229-5070.
Repair Service Updates
The detailed update to the page focuses on specific service offerings, namely:
Repair Services
Glass Repair – outside of automobiles, the company repairs nearly every type of glass imaginable.
Sliding Glass Doors – customers take them for granted, until they don't.
Board Up – for both Miami businesses and residents, Express Glass offer a board up service.
Commercial Glass Repair – small businesses love Express Glass, from Little Haiti to Little Havana, Lumus Park to Flagami, Upper East Side to Coconut Grove.
Emergency, 24 Hour Glass Repair – nature, vandals and accidents know no bounds, nor does Express Glass. The company's trucks are roaming the Miami area, 24/7 on an emergency on call basis.
Residential Glass Service (Home Window Glass Repair) – the company services both residential and business customers.
Patio Doors – in addition to common items like windows or regular doors, the company services French doors, patio doors, and the like.
About Express Glass and Board Up
Express Glass and Board Up Service Inc. is a family owned and operated glass repair business with more than 20 years of experience. Their professional technicians and the large variety of inventory make Express Glass the top glass repair service. If customers are looking for Miami glass repair or Miami glass repair as well as glass repair in Delray Beach or West Palm Beach glass repair, please reach out to the company for a free estimate. If customers need a 24/7 Sliding Glass Door repair service in Miami or Boca Raton or Miramar, technicians are standing by. The company specializes in sliding glass door repair and window glass repair; technicians will handle any glass replacement situation efficiently. Home or business glass repair is the company's main priority.
Express Glass Repair and Board up
http://www.expressglassfl.com/