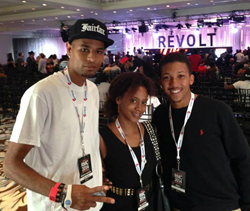 SAE Miami's involvement with a major industry event like RMC offered our students invaluable opportunities to network and increase their economic value as creative media professionals.
Miami, FL (PRWEB) November 11, 2014
Eight students from the Audio Technology Program of SAE Institute Miami, along with five SAE faculty members and administrators and two campus ambassadors, participated in the first annual REVOLT Music Conference (RMC), which was held in Miami Beach on October 17-19. The conference, which addressed key industry topics and discussed the ever-changing world of music and media, took place at the Fontainebleau Hotel.
"The SAE students who participated in RMC are the young and creative people who REVOLT relies on to help build the brand," says Dave A. Shirley Jr., REVOLT's Associate Manager, Integrated Marketing. "From helping with the production details of our panels to working directly with our VIP guests, SAE's students contributed to making RMC a huge success."
RMC was presented by REVOLT, a multi-genre, multi-platform network that offers breaking music news, videos, artist interviews, exclusive performances, and original programming. Founded by Sean "Diddy" Combs, REVOLT's television channel attracts over 50 million young adults through television, digital properties, social and mobile. Launched in broadcast in October 2013, REVOLT is available on Time Warner Cable, Comcast, Verizon FiOS, CenturyLink, and Suddenlink in 46 of the top 50 U.S. markets including New York City, Los Angeles, Chicago, Philadelphia, Dallas, Miami, Boston, Atlanta, and Washington, DC.
The REVOLT Music Conference attracted over 1,000 attendees from around the world. It featured five live music showcases with performances from Jhene Aiko, SZA, G-Eazy, ASTR and Travis Scott, five hours of "REVOLT Live" broadcast on location, ten panels with over 70 speakers, keynote addresses from Guy Oseary, Bob Pittman, Russell Simmons, and Sean Combs, networking seminars, and an evening gala honoring Jimmy Iovine.
Students who are currently pursuing Diplomas in SAE Miami's Audio Technology Program and who participated in RMC were Christopher Acosta, Nick Brigham, Jared Hunt, Kervins Vilson, Gabriel Blandon, Wilbur Fernandez, Clarence Achille, and Ricky Mears. Participating SAE Miami faculty and administrators were Dave Andris, Elliot Tordoff, Andre Sanchez, Dianne Dawkins, and Jim Beauvais. Dre Marshall and Andres Morales, two of SAE Miami's Graduate Ambassadors, also contributed their talents to RMC.
"SAE Miami's involvement with RMC not only provided our students with the practical experience of implementing the technical details of such a high profile event, it also offered them invaluable opportunities to network and increase their economic value as creative media professionals," says SAE Miami Campus Director Marcella Holness. "We look forward to being an integral part of RMC and contributing to its well-deserved success in the years to come."
About SAE:
SAE Institute provides aspiring creative media professionals with a foundation of practical theory and valuable hands-on training in their chosen areas of concentration. Under the guidance of our faculty, which is comprised of working industry professionals, students gain the essential experience they need for entry-level jobs in the entertainment business. Our students are supported in their job searches by SAE's international network of alumni, many of whom are leaders in the music, film, game arts, and live performance arenas. We offer programs in audio technology across our seven US campuses, along with a music business program at select locations, all fully accredited and focused on preparing students for employment when they graduate. Bachelor's Degree programs in Animation, Audio, Film, Game Art & Graphic Design are available at the two locations of Ex'pression College, which is owned and operated by SAE Institute Group, Inc. SAE Institute Group, Inc. is a part of Navitas LTD. Learn more at USA.sae.edu.
About Navitas:
Navitas is an Australian global education leader, providing pre-university and university programs, English language courses, migrant education and settlement services, creative media education, student recruitment, professional development, and corporate training services to more than 80,000 students across a network of over 100 colleges and campuses in 27 countries. Learn more at Navitas.com.