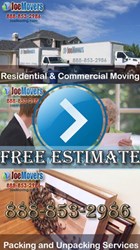 Joe Movers Experts: We'll gently relocate you from New York to Florida including Miami and Fort Lauderdale, West Palm Beach & beyond

And along the way Virginia, Washington DC, Maryland. http://JoeMovers.com

888-853-2986.
New York, NY (PRWEB) June 13, 2013
Joe Movers, a well-respected New York-based moving team, continually moves customers to local destinations Announcing today a new long distance moving services to Florida, including cities in South Florida like Miami, Fort Lauderdale, West Palm Beach, Jacksonville, Orlando and Tampa Florida. In addition, this professional moving team provides first-class online content covering all aspects of stress-free moving for local, long-distance, or international relocation. Whether moving a home, office, or medical facility to the state of Florida or elsewhere, everybody deserves a unique and customized moving plan. An expert team such as Joe Movers can easily implement a personalized relocation strategy for every customer. These efficient moving plans are set up to suit the needs of every individual client.
Joe Morgan, a company official from Joe Movers, notes the firm's experience and expertise.
"Every year, a top moving service like Joe Movers will handle hundreds (and more) of relocations from New York to Miami on an annual basis. After all, South Florida is a popular location being the only part of the continental United States with a tropical climate," says Morgan.
Obviously, Joe Movers with its considerable experience in long-distance moving is well-accustomed to traveling in all kinds of weather to varied cities all over the US. A cross country move covers an incredible distance. For example, consider the number of miles between New York and Miami, Florida. Relocation teams will have to pass through several states and various cities before they reach their destination. On the way from New York City to Florida, movers will travel to locations such as Richmond Virginia, Washington DC, Maryland, New Jersey, Philadelphia Pennsylvania, South Carolina, North Carolina, Atlanta, and Tennessee,
Experienced companies like Joe Movers are used to covering the lengthy distance between New York and Miami. Therefore, Joe Movers can easily give you an accurate quote for moving services right at the beginning of the process. Long distance moving costs are calculated using the shipment's weight as well as the distance of the move. When a company determines the weight of one's possessions, they can just use this number plus the actual distance to figure out the cost of one's long distance move.
Joe Morgan notes that all ages are interested in making their home in Miami – from young people following the sun and surf, to couples and families looking for an exceptional city to call home, to seniors seeking out the retirement communities. Anyone interested in making a move from New York City to Miami (or to other locations) should also look for an expert real estate agent.
Discover more about foolproof and stress-free relocation at http://JoeMovers.com. Feel free to contact Joe Morgan to discuss any aspect of a local, long distance, or international move. Whether going from New York to Miami or anywhere else in the US and beyond, Joe Movers continues to be a leading provider of moving services for homes, offices, or medical facilities.
About Joe Movers:
Joe Movers, an experienced and professional NYC moving company, offers a comprehensive list of services for residential or corporate clients. The well-known firm provides regular moving services such as packing/unpacking, loading/unloading, disassembly/reassembly, and computer/electronics moving, as well as Red Carpet VIP Movers. Joe Movers are known as specialists in all areas of moving including senior moving, student moving, medical office moving (MRI, X-Ray, CT, PET systems, and more), trade show moving, school moving, hotel and casino moving, retail store moving, and sensitive equipment rigging and moving, as well as company and employee relocation, and residential moves. Joe Movers' interconnected worldwide network allows the company to offer excellent service and competitive prices for international moving.
Contact:
Joe Morgan
Joe Movers
700 E 12th St, New York, NY 10009
T: 888-853-2986
http://joemovers.com