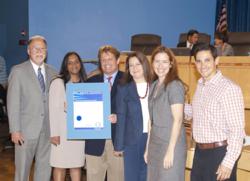 Miami, Florida (PRWEB) June 27, 2013
On June 19, 2013, the School Board of Miami-Dade County recognized the Miami Bayside Foundation for their continued commitment to supporting minority business and education with the goal of advancing economic development in the City of Miami.
The Miami Bayside Foundation, a City of Miami-based nonprofit established in 1986, has created and administers a loan program for City of Miami minority businesses, funds scholarship endowments and gifts programs for City of Miami minorities studying entrepreneurship and business, and provides training and technical assistance to minority businesses in the City of Miami. The Foundation has awarded 256 scholarships to City of Miami minority students attending Miami-Dade College, Florida International University, and Florida Memorial University; it also awarded fifteen loans creating more than 100 jobs in the City of Miami, and created partnerships that have helped train more than 100 City of Miami minority business owners.
In the last year, the Foundation made a five-year gift to Breakthrough Miami, an academic enrichment program serving motivated students from disadvantaged communities as well as to the Network for Teaching Entrepreneurship (NFTE), an internationally recognized organization that provides programs meant to inspire students from low-income communities to stay in school, to recognize business opportunities and to plan for successful futures.
For more information on the Miami Bayside Foundation, please call (305) 379-7070, email info(at)miamibaysidefoundation(dot)org or visit http://www.miamibaysidefoundation.org.