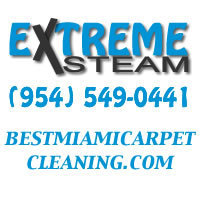 Miami, FL (PRWEB) August 26, 2009
A Miami Carpet Cleaning Company, Extreme Steam, launches their new web site http://www.bestmiamicarpetcleaning.com . Extreme Steam has been helping the people of south florida keep there homes sanitized and free from germs and bacteria since 2006. Most people don't realize that germs and bacteria can be easily carried into their homes and into their carpets. Germs and bacteria can stick to your hair, skin and even the clothes you wear very easily, but it does not stop there. Once in the home these Germs and bacteria easily find their way to the carpet and upholstery to start breeding. These germs are alive and thriving, and as long as a home's carpets remain dirty. If people have allergies, asthma, emphysema, or other breathing problems one major source of their problem could be the pollens, fungus, smoke and chemicals in your carpet and upholstery.
As summer fades it is important for home and business carpets to get cleaned and sanitized, with the fun of summer comes the natural pollens and increased germs of the season. Ridding carpets of these germs and bacteria is crucial at this time of the year to ensure that people don't get sick or susceptible to allergies. Extreme Steam helps make this easy for home owners with their best price and satisfaction guarantee philosophy
Extreme Steam a Miami Carpet Cleaning Company uses a green cleaning hot-water extraction process to steam clean carpets and upholstery. They use a truck-mounted hot-water extraction unit to force very hot water into the carpet under high pressure, and then suck it (and the dirt) out thoroughly. This process has many advantages such as;1) The high heat kills bacteria, fungus, mold, and dust mites, making it the healthiest way to clean carpet 2) It doesn't leave residue because we use only Green Cleaning products in the process, and 3) The high pressure and strong vacuum cleans carpet to its core.Extreme Steam hopes that this information will help bring awareness to consumers and educate them on how easy it is for bacteria and Germs to get into a household and start breeding.
Carpets are very susceptible to germs and bacterias and need to be cleaned regularly to keep a home sanitized and safe for families. Carpets are the play area for many kids and toddlers protect them with the use of non-toxic green cleaning. Extreme Steam a Miami Carpet Cleaning Company along with the help of a Miami SEO is spreading the word to all homeowners in the hopes of educating them on the needs of carpet cleaning from a health point of view.
Extreme Steam is a Miami Carpet Cleaning Company Specializing in Green Steam Cleaning and many other services through out the Miami tri-county area (Miami-Dade, Broward and Palm Beach counties).
###