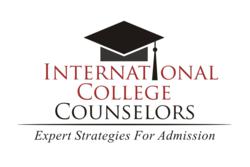 Few gifts make as significant an impact as the gift of encouragement and education.
Miami, FL (PRWEB) November 29, 2012
The holiday season is in full swing, and with it, the quest for the perfect gift. Rather than spend time in a crowded shopping mall or scouring the options from countless online retailers, give a gift that will make a real difference in the life of a student who plans to attend college. A college advisor can give students the personalized attention they need to get into the college of their dreams, said Mandee Heller Adler, founder and CEO of International College Counselors.
Give the gift of a college advisor – a gift that will last a lifetime and enable a student to buy all the ipads and video games on their own wish lists.
An expert and experienced college advisor from International College Counselors will:
1. Provide a child with a guided plan for success.
2. Help a child define and understand his or her unique potential.
3. Keep a student organized.
4. Free up more of a student's time so he or she can focus on school and other priorities.
5. Inform the parents and their student about changes in higher education and college admissions.
6. Thoroughly review a student's application and polish it to a high sheen.
7. Be the "bad-guy". (As most everyone knows, teens don't necessarily like to listen to their parents!)
8. Guide a student to make wiser personal decisions during these important years.
9. Find the right college match for a student.
10. Connect students with any help – like tutors – that is needed as they work towards the goal.
"Few gifts make as significant an impact as the gift of encouragement and education," said Adler. "A family can let their student know what is truly important."
The earlier students start working with the expert college counselors at International College Counselors, the more advantage they gain. Early planning gives a student time to sift through individual interests, create a steady academic progression, and build a solid foundation of achievements, including focused community work and summer options.
Giving the perfect gift is easy. Just call International College Counselors at 954-414-9986 today.
No batteries required.
This year, college advisors at International College Counselors helped more than 200 students find, apply to and gain acceptance into the college of their dreams. The expert college counselors at International College Counselors are dedicated to helping students and their families successfully navigate the college application process.
For more information on International College Counselors or to contact an expert college counselor, please visit http://www.internationalcollegecounselors.com.
ABOUT INTERNATIONAL COLLEGE COUNSELORS:
International College Counselors provides expert college counseling on undergraduate and graduate college admissions, financial aid, tuition, essays, and college applications to domestic and international students.
The college counseling and college coaching services are tailored to address the goals, needs, and dreams of each student. Mandee Heller Adler, founder of International College Counselors, is a graduate of the Wharton School at the University of Pennsylvania and also received an MBA from Harvard Business School. International College Counselors' achievements include being recognized as one of South Florida's Top 100 Small Businesses in 2012.
International College Counselors has offices in New York, New York; White Plains, New York; Boston, Massachusetts; Miami Beach, Florida; Miami, Florida; Coral Gables, Florida; Palm Beach, Florida; Boca Raton, Florida; Medellin, Colombia and Caracas, Venezuela.