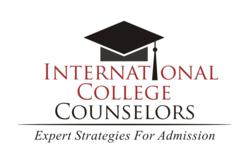 Students must not lose sight of the goal. What they do in high school is for college, it's not something they must commit to for the rest of their lives.
Miami, FL (PRWEB) August 31, 2012
High school is about to start, or just started, clubs will be forming, and sports teams will start recruiting. Now is the time to lay the groundwork for merit aid, recommend college advisors at International College Counselors. Merit Aid is financial help to students based on academic or athletic achievements, special talents such as music, or other characteristics. It is money available to students regardless of their "need," meaning not awarded based on the student's economic situation. Almost every traditional four-year college, public or private, offers some form of merit aid.
To get merit aid a student needs to show that he or she has reached a higher level of achievement with grades, test scores, leadership ability, artistic ability or even a hobby, like video gaming or knitting. Yes, there are actually scholarships for these latter skills.
"At International College Counselors we encourage high school sophomores to narrow down their activities and really put the time and effort into those they have interest in and can excel in," said Mandee Heller Adler, CEO and founder of International College Counselors.
High school juniors are encouraged to focus on what they already have a background in. As the college advisors at International College Counselors explain, if a student has been part of an organization for two years, this is the year to take on a leadership role. If a student has been in a sport for two years, she should stick with it. If a student has ability and interest in art or dance, he should pursue it.
Talented students should enter competitions and get recognized for their skills. Colleges are not looking for a "jack of all trades" but someone who demonstrates passion, drive and the ability to move up the ladder.
"Students must not lose sight of the goal. What they do in high school is for college, it's not something they must commit to for the rest of their lives," said Adler, a college advisor for over 10 years.
If you are a student looking for merit aid, here are tips that can improve your chances of receiving merit aid.
1. Do research and find the schools that offer merit aid to students. Your best – and most accurate – bet is to search each college's financial aid site. To help students get started, The New York Times recently created a chart of colleges and universities that award merit aid. US News and World Report also published a list of 10 schools where merit aid awards are most common. This latter list is based on data reported by the schools to the publication. Parents can also call the schools' admissions office or financial aid office and get a general answer on whether a student would be eligible for any merit aid.
2. Search http://www.MeritAid.com. As its name suggests, this is a good resource for merit aid.
3. Choose colleges where you'd be at the top. If your grades and tests scores put you in the top 25 percent of the student body, there is a very good chance a school will try to woo you with merit aid.
4. Take stock of your abilities. Merit aid also means athletic achievements and special talents. If you are skilled in sports, music, etc., merit aid and scholarships focusing on these abilities are worth looking into.
5. Consider your interests. Your sports, hobbies, clubs, etc. may all offer scholarships. Among the countless activities and associations that offer merit aid are beauty pageants, service clubs, ice skating, honor societies and 4H.
6. Stay focused. Once you choose which activities to commit yourself to, stick with them unless you encounter some major difficulty.
7. Evaluate merit aid scholarships that promote diversity. You may find you qualify for many merit scholarships simply because of who you are and/or where you live. A number of schools use merit aid to attract students who are different from the majority of their student body. Qualifications may include being from out of state, being a minority and gender.
8. See if your major has merit aid. A number of merit scholarships are earmarked for students with a particular major.
9. Look into merit aid offered by state governments. Accessing this money typically requires you to meet certain GPA, test score and residence requirements. Two examples: Graduating high school students in the state of Florida may receive a Bright Futures scholarship for most public and private colleges in Florida if they earn at least a 3.0 average in high school; New York State Scholarships for Academic Excellence program provides top scholars with $1,500 scholarships to study at in-state colleges.
10. Retake the SAT or ACT as necessary Higher grades and test scores may generate more aid. A number of schools even state this on their websites.
11. Apply Apply Apply for scholarships. These are a form of merit aid under another name. We mentioned a few roads to scholarships up above but there are literally thousands of scholarships with all sorts of eligibility requirements.
12. Negotiate. If you have received admission letters from two or more schools of equivalent standards, don't be afraid to 'bargain.' Some schools may be willing to match a merit grant offered by another school.
In 2012, the college advisors at International College Counselors helped more than 200 students find, apply to and gain acceptance into the college of their dreams. The expert college advisors at International College Counselors are dedicated to helping students and their parents with the often daunting and complex college application process.
For more information on International College Counselors or to contact an expert college counselor, call 800-452-9090.
ABOUT INTERNATIONAL COLLEGE COUNSELORS:
International College Counselors provides expert college counseling on undergraduate and graduate college admissions, financial aid, tuition, essays, and college applications to domestic and international students. The college counseling and college coaching services are tailored to address the goals, needs, and dreams of each student. Mandee Heller Adler, founder of International College Counselors, is a graduate of the Wharton School at the University of Pennsylvania and also received an MBA from Harvard Business School. International College Counselors' achievements include being recognized as one of South Florida's Top 100 Small Businesses in 2012.
International College Counselors has offices in New York, New York; White Plains, New York; Boston, Massachusetts; Miami Beach, Florida; Miami, Florida; Coral Gables, Florida; Palm Beach, Florida; Boca Raton, Florida; Medellin, Colombia and Caracas, Venezuela.