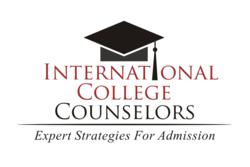 Giving back to students and their families has always been a main focus of International College Counselors.
Miami, FL (PRWEB) February 08, 2012
International College Counselors is pleased to announce the 2012 college scholarship competition. Students in grades 9-12 from Dade, Broward, Palm Beach counties and outside the tri-county area are invited to apply.
"Giving back to students and their families has always been a main focus of International College Counselors," founder and president Mandee Heller Adler said.
This is the third year International College Counselors has been awarding college scholarships.
Students are asked to submit an essay that answers the question:
What makes a good college education?
Four college scholarships of $250 each will be awarded, three to students who attend school within Dade, Broward and Palm Beach County; and one to a student from outside Dade, Broward and Palm Beach County, including outside the United States.
Work will be judged on the basis of originality and effectiveness of argument or presentation.
"Through the college scholarship program, International College Counselors recognizes students who appreciate the value of education and can articulate that belief," said Adler, who also works as a college counselor for the South Florida based company.
Students who can write fluently in English or in Spanish are encouraged to apply. The deadline for receipt of essays is April 1, 2012.
The contest rules and submission information can be found at International College Counselors. Select the "Scholarship" section of the website for downloadable contest rules. You can also go directly to the entry application.
Students do not need to be clients of International College Counselors to enter or to win this annual scholarship competition.
The International College Counselors High School Essay Contest has established a Scholarship Fund to increase awareness of the value of higher education among high school students, as well as to give financial aid for tuition to college-bound students.
Good luck to all.
For more information, please contact an expert college counselor at http://www.internationalcollegecounselors.com
International College Counselors
(954) 414-9986
Office Locations
Boca Raton: 595 South Federal Highway
Hollywood: 4700 Sheridan Street
Miami Beach: 1111 Lincoln Road
Palm Beach Gardens: 800 Village Square Crossing
White Plains, NY: 150 Grand Street
About International College Counselors
International College Counselors is a Miami-based company that provides expert college counseling on undergraduate and graduate college admissions, financial aid, tuition, essays, and college applications. The college admissions counselors at International College Counselors work with domestic and international students. International College Counselors, founded by Mandee Heller Adler, tailors college counseling and college coaching services to address the goals, needs, and dreams of each student.
Media Contact
Cheree Liebowitz
954 414-9986
cheree(at)InternationalCollegeCounselors(dot)com
###