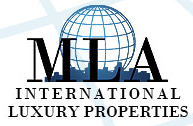 Our goal is to provide buyers and sellers with a window to the market for the finest luxury and commercial properties throughout Miami
Miami, Florida (PRWEB) December 02, 2011
Aiming to meet the informational needs of investors and property owners in the Miami area, MLA International Luxury Properties recently launched a new website, MLA-International.com. The site is a must-visit for anyone interested in learning more about the luxury real estate market in Greater Miami.
"Our goal is to provide buyers and sellers with a window to the market for the finest luxury and commercial properties throughout Miami," says Marina Perepelytsia, MLA International's founder. "Whether you're looking for that ideal Miami condo investment or you want to know what the current market trends are, you will find what you need in our new site."
Built to be as easily accessible as possible, the site has an elegant and uncluttered design and a streamlined user interface, which makes browsing for Miami South Beach condos or learning more about the area simple and straightforward. Featuring extensive property listings, the site also has a customizable property search tool and various tools and resources such as a mortgage calculator and mortgage rate checker.
"When you're investing or selling your property, you need to have instant access to relevant, up-to-date information," says Perepelytsia. "This is why we've designed our site to be comprehensive and easy to use."
Specialists in Miami condo sales and luxury homes, MLA International also deals with commercial and hotel and resort properties. Known for their fast and reliable service, they have extensive experience in meeting the needs of both local and international clients. The firm's areas of expertise include South Beach, Downtown Miami, Sunny Isles, and Bal Harbour.
Visit their new website. MLA-International.com to learn more about their wide range of services and to start browsing through currently available property listings throughout Miami.
###