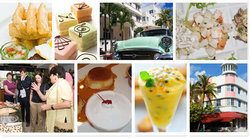 "We offer a completely different perspective. Our food tours around Miami give people a chance to experience the culture behind the food"
Miami, FL (PRWEB) April 12, 2010
A melting pot of cultures, South Florida's tropical paradise offerings run the gamut from five-star gourmet to hole-in-the-wall delicious — a scene that's as varied as the communities that make up the area. Miami Culinary Tours organizes food tasting tours that not only showcase a particular type of cuisine, but also the culture and history behind it, giving tour participants the full story. The Miami Food tasting tours(the Cuba Bonita Food Tour and the South Beach Walking Food Tour) offer both residents and visitors to the area a chance to sample delicious dishes by stopping at multiple locations. Think of it as a multi-course meal, but instead of staying put at one table in one place, participants move around to a variety of venues. The food tours around Miami also put attendees face to face with the people behind the food.
"We offer a completely different perspective. As 'food' people we know that for foodies, it's about more than just the dish and the restaurant. Our food tours around Miami give people a chance to experience the culture behind the food while visiting Miami's historic neighborhoods" Says Miriam Baum, Marketing Manager
Cuba Bonita Food Tour: Miami wouldn't be Miami without the Cuban influence the city is synonymous with. And nowhere is this island spirit more palpable than in Little Havana, a neighborhood in the heart of Miami that's home to Miami's oldest Cuban restaurants. The initial meeting point is in South Beach and the tour stops at seven locations, including various spots in Little Havana, Calle Ocho, Key Biscayne and Coral gables. Along the way, we sample coffee cortaditos and coladas, Cuban sandwiches, freshly squeezed tropical fruit juices, Cuban finger foods and entrees, and pastelitos and other pastries. Part of the tour also includes a visit to an authentic Cuban market.
South Beach Walking Food Tour: With its festive curves and sunburst motifs, Art Deco architecture seems like it was tailor-made for South Beach, where the style is alive and well — and with pastel coloration thrown in for good measure. In South Beach, Art Deco immediately conjures up images of glamour, of sun-filled vacations, of days spent cruising Ocean Drive in a vintage Chrysler convertible. The South Beach Walking Food Tour is all that minus the Chrysler. A guided cultural tour (on foot) of South Beach's most iconic Art Deco properties, all while sampling some of SoBe's hottest bites.
###