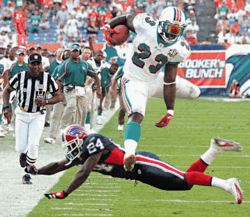 All Miami Dolphins Tickets have been reduced by 30% at www.TicketHunterOnline.com with promo "WICKED" for the remainder of the season.
Miami, Florida (PRWEB) November 15, 2011
The Miami Dolphins are off to a spectacular season, as all 2011-2012 Dolphins tickets receive a huge 30% reduction for the remainder of the season with promo "WICKED" valid at TicketHunterOnline.com.
The Dolphins has their first home victory in a year this past weekend, against the Washington Redskins. Miami linebacker Karlos Dansby had a great showing to say the least, with an interception and 10 tackles.
In an interview with the Miami Herald last week, Dansby stated: "I feel like I'm the best, and now I just have to prove it. I've been saying it for the last couple of years, and I'm just now getting my opportunity to be on the stage to show it. That's why I chose the Miami Dolphins. That's why I came down here. That's why I chose the AFC East, because everyone said it was the best [division]. I want to play against the best guys. I want to see how I measure."
Miami Dolphins star wide receiver Brandon Marshall also had a great showing this past weekend against the Redskins. Brandon was also interviewed by the Miami Herald this past week.
"At the end of the day, one of the things I love about football is the spotlight we're in and being one of the faces of a team or the NFL. I'm a fan of psychology now. For me, that was 60 percent to help me, but 40 percent to help the team. The way I approached that game was if you're going to get into a fight and have five brothers, you walking around with your brothers and one gets into a fight. He throws that first punch, what are the other four brothers going to do? If they're close, they're going to be with you. So at the time, we were 0-4 and I was thinking, 'We got to get going.' I knew I wasn't playing with the excitement I wanted to play at, and it seemed like that for other guys on the team. We weren't having fun. So my thing was, I'm going to throw this first psychological punch and hopefully these guys follow me. Me saying it put me in a position where I had to back up my talk. If I have to throw myself out there to get myself going or get some guys on the team going, that's what I'm going to do. That's what that was about." stated Marshall in the Miami Herald interview.
All Dolphins tickets have been reduced by 30% at http://www.TicketHunterOnline.com with promo "WICKED" for the remainder of the season.
###